Whether it's an insert that slides to one side or pesky pilling that interrupts a polished aesthetic, you're likely to encounter one duvet cover dilemma or another when using this popular top bedding layer. But we're here to help: From fit to material to comfort, many of the most common complaints about duvet covers and their corresponding inserts are surprisingly easy to address—especially when you're armed with our bedding insight and expert tips. Explore our duvet cover FAQs to help you get the most out of this cozy bedding option.
Why Won't My Duvet Insert Fit Inside the Cover?
A duvet insert should match the size of the cover, so if it doesn't fit, your first step is to check the dimensions of both. If they're the same, remember that a snug fit is expected: It lessens the likelihood of shifting or bunching. However, this tight fit may also make it harder to get the duvet cover on; try one of our practical approaches to putting on a duvet cover to simplify the process.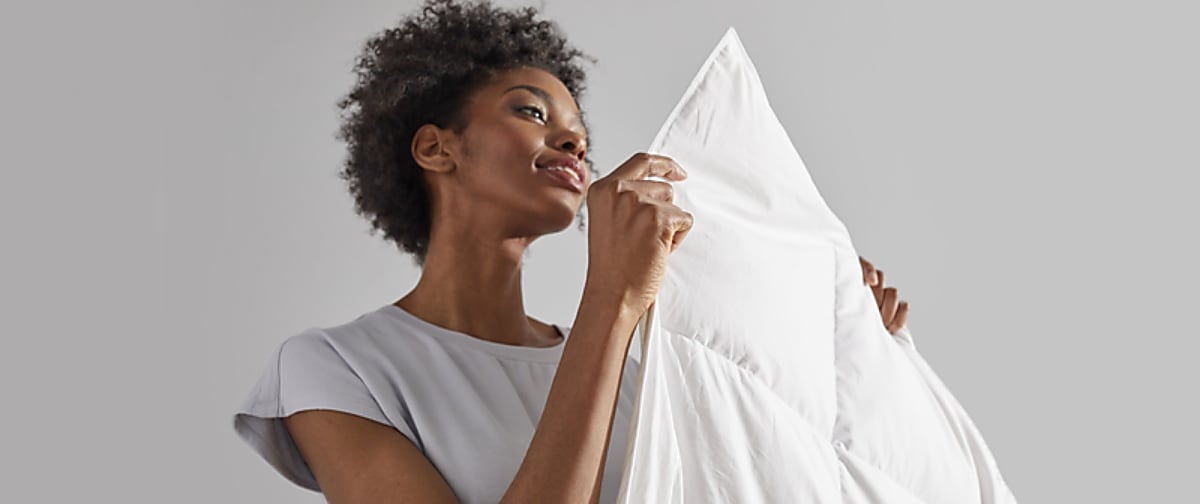 How To Keep Duvet Cover From Bunching
If you've chosen the right size duvet cover, the answer to bunch-resistant bedding lies in its construction: Convenient corner ties and corresponding loops prevent slipping and shifting while you sleep. Of course, with any duvet cover and insert pairing, a small amount of bunching is inevitable. The easiest way to minimize it? Give your duvet a good shake to resettle the insert each morning when you make the bed.
How to Prevent Duvet Cover Wrinkles
When it comes to a wrinkly duvet cover, prevention is the best approach. Try these three tactics for avoiding a wrinkled duvet cover on your bed.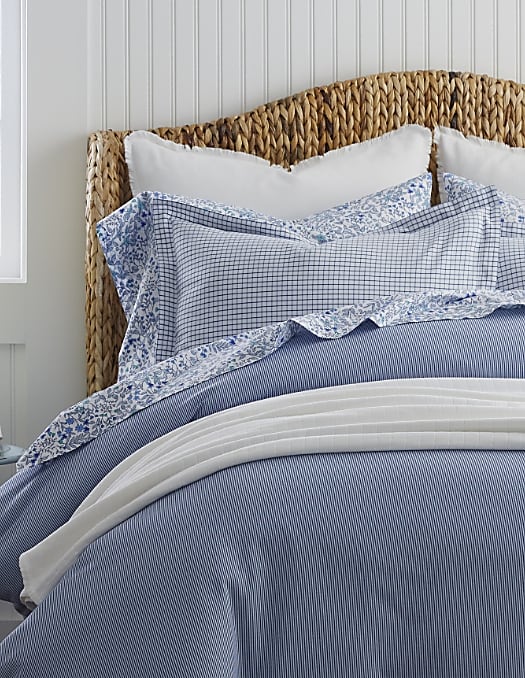 Opt for a wrinkle-resistant duvet cover fabric. Silky sateen is a better choice than percale or linen, which may rumple and crease more easily.
Remove bedding from the dryer immediately. Dry a duvet cover on a low tumble-dry setting, remove it as soon as the cycle is complete, and promptly fold it—smoothing between each step.
Store your duvet cover properly. Place your clean, folded duvet cover in the linen closet or put it back on the bed right away to prevent wrinkles from setting in.
Make your bed in the morning. A crisp, fresh-made bed looks inviting in the evening, but wrinkles are also less likely to persist if you smooth them out each morning.
Can You Iron a Duvet Cover?
Whether you can iron a duvet cover depends on the material. Most of our duvet covers can be pressed for a crisp, polished finish, but always check your product's care instructions first.
Why Is My Duvet Cover Pilling?
While it's a natural result of normal wear and tear for any fabric, some materials—like flannel—are more prone to pilling. Try these bedding care tips to keep your duvet cover from pilling:
Add a trio of wool balls to the dryer to fluff the fabric and keep it from rubbing against itself, therefore avoiding the agitation that leads to pilling.
Avoid washing your duvet cover in hot water and dry it on a low or air-fluff setting, as high temperatures can weaken fibers for faster pilling.
Wash duvet covers and other bedding pieces alone or with like fabrics without any embellishments or zippers.
Why Is My Duvet Insert Lumpy?
Because our quality down and down alternative duvet inserts boast such long lifespans, a lumpy insert is more likely due to improper care than an indicator of bedding that's nearing the end of its life. Extend the life of your insert with these tips:
Avoid using too much detergent and skip the fabric softener to prevent build-up within the fill.
If you've noticed lumps and clumps, wash your insert according to manufacturer's instructions, and use an extra rinse cycle to wash away any detergent residue.
To help redistribute clumped down or down alternative filling, place the insert in the dryer on a low or air fluff setting, and add a few wool dryer balls to help beat the fill back into place.
Hang your insert outside in the sun on a low-humidity day to help air out the fill, which can reduce lumps for refreshed fluff.
If the down or down alternative fill is still lumpy, it may be time to replace your insert.
Even considering lumpy inserts, bunching covers, and pilled surfaces, the challenges posed by a duvet cover are far fewer than the pros—especially when you know how to address them effectively. For more bedding advice and ideas, explore our Inspiration Guide.