When to replace your sheets, comforter, pillows, and other bedding items may vary. Longevity depends on proper care, whether you use protective covers or not, and the quality of the bedding you've chosen. Explore our guide to see how long you can expect different types of bed linens to last.
How Often Should You Get New Sheets?
Quality and material are two important factors when it comes to how often you should replace your sheets. The highest quality sheets—made from durable cotton, linen, or a blend of natural materials—may last three to five years or more with proper care. Lower-quality options made from microfiber or polyester blends should be replaced after two to three years. Signs of wear include pilling, thinning, tearing, fading or discoloration, or diminished softness.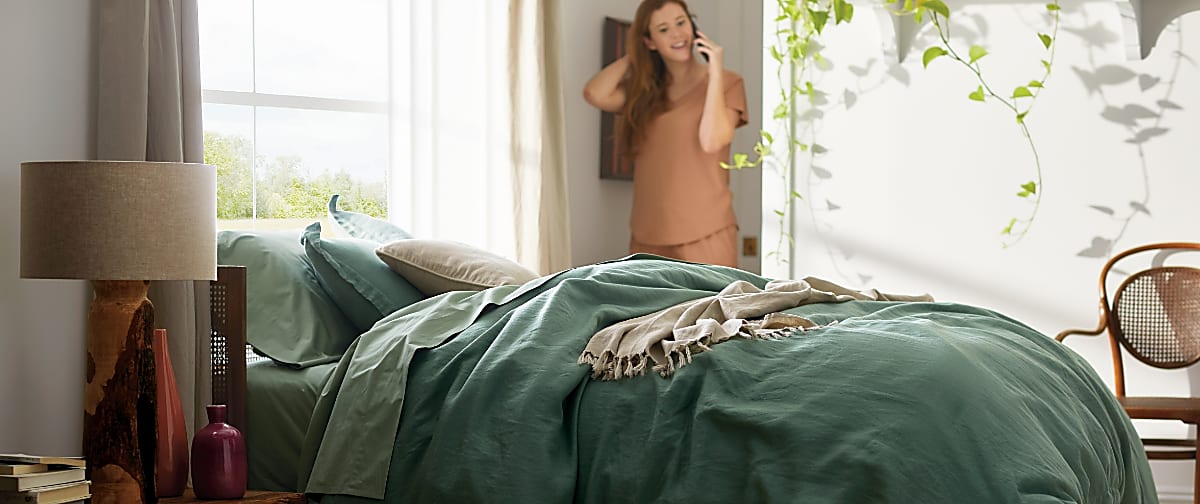 How Long Do Comforters Last?
A comforter is a lofty layer with a long lifespan. A comforter or duvet insert isn't subject to the same direct contact as sheets and blankets, so people often get the most mileage out of this bedding item. The best quality down comforters can last up to twenty years, while down alternative comforters have a shorter life expectancy—about five to ten years.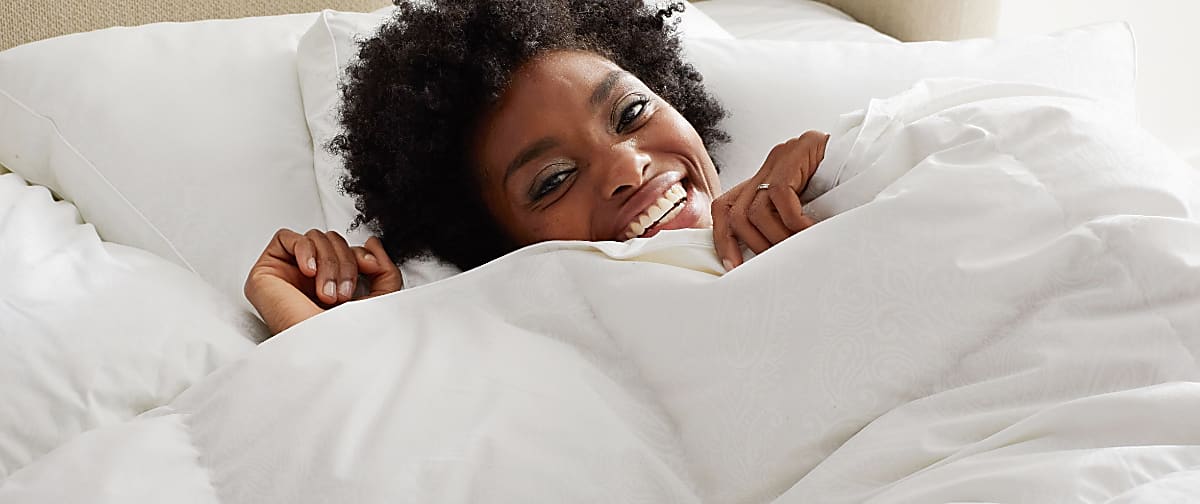 Factors that influence comforter lifespan include:
Fill: Both down and down alternative fills break down eventually, but down has a longer lifespan than down alternative.
Construction: Quality comforters constructed with strong materials—we love cotton or cotton/rayon made from bamboo blends—are built to last, while products made from cheaper, low-quality materials like microfiber wear out faster.
Care: Too frequent laundering or not following care instructions can contribute to comforter fill or shell damage. Bleach, dryer sheets, fabric softener, and other laundry additives may cause the fill to clump. Fill may develop an odor or mildew if not fully dried before you store your comforter.
Proper Storage: Folding your (thoroughly dried) comforter and storing it in a breathable, non-plastic bag or in a linen closet on top of a stack of other bedding will help prevent crushing or damaging the fill, so it'll emerge as lofty as ever.
Prevention: Slip your duvet insert into a duvet cover or use a protective comforter cover to reduce damage from spills, dirt, debris, and pets.
How Often Should You Replace Your Pillows?
Sleep and health experts recommend replacing pillows every one to two years. Beyond this timeframe, pillows may become less supportive and could be harboring bacteria and allergens that can't be fully washed away. Properly washing pillows helps remove allergens and irritants, but if they develop a musty smell or the fill remains lumpy even after fluffing, it's likely time to buy new pillows.
When Should Other Bedding Be Replaced?
Some bedding comes in direct contact with your body while you sleep—think sheets and pillows—while duvet covers, throw blankets, and decorative shams don't. Less direct contact means less wear and tear and a longer lifespan. As with sheets and comforters, the quality of a bedding piece also affects its lifespan.
Average Bedding Longevity At a Glance
Various factors influence the longevity of bed linens, but most bedding types have a suggested replacement schedule. Use this list to find the average lifespan of each bedding item, but also consider how often you use and wash your bedding and look for signs of wear and tear to decide when to replace.
| Bedding Type | Average Life |
| --- | --- |
| Pillows: Down | One to Two Years |
| Pillows: Down Alternative | One to Two Years |
| Pillows: Throw/Decorative | Three to Five Years |
| Decorative Pillow Shams | Three to Five Years |
| Comforter/Duvet Insert: Down | Up to Twenty Years |
| Comforter/Duvet Insert: Down Alternative | Five to Ten Years |
| Duvet Cover | Three to Five Years |
| Bed Sheets | Two to Five Years |
| Throw Blankets | Five Years or More |
| Quilt | Decades/Heirloom Item With Proper Care |
| Coverlet/Bedspread | Five to Seven Years |
| Mattress Topper/Pad | Three to Five Years |
| Mattress Protector | Two to Three Years |
For a longer lifespan, start with the highest quality bedding. You'll spend less over time on replacements, even if you pay more upfront. In fact, we're so confident in the quality of our bedding that many of our USA-assembled down and down alternative products are covered by our Lifetime Guarantee. For more bedding tips and advice, explore our Inspiration Guide.