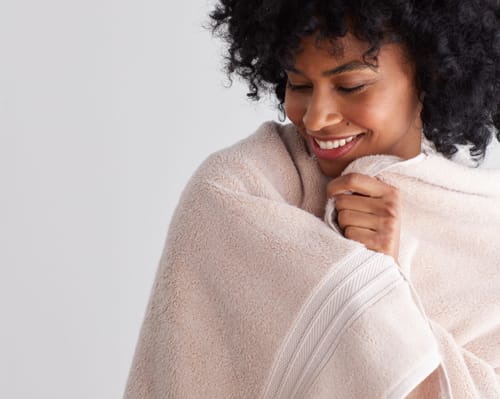 towel guide
How to Choose the Perfect Towel
Certifications
When you see "STANDARD 100 by OEKO-TEX® Certified" you know the source materials used have been tested and verified by an independent lab against a list of more than 350 harmful substances enabling you to make responsible decisions to keep you and your family safe
The strict Global Organic Textile Standard (GOTS) ensures the organic quality of materials and the environmental and social responsibility of textiles, from harvesting through manufacturing.
TENCEL™ Lyocell is an eco-friendly lyocell fiber sourced from sustainable wood fibers, produced with minimal use of water and renewable natural materials.
Only the top 3% of all cotton grown in the USA earns the label of Supima®—superior pima. All Supima® is 100% American grown pima cotton, prized for its incredible softness, durability, and ability to absorb moisture and retain color.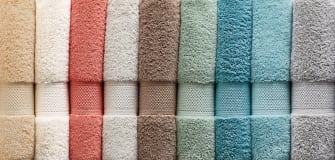 Legends Luxury™ Sterling Towels
Shop now
When it comes to the right number of towels, the basic rule of thumb is to have three sets of towels: one set for the bathroom, one for the linen closet, and one for the laundry. A set usually consists of a bath towel or bath sheet depending, a hand towel, and a washcloth.
Towels that are too old don't dry you thoroughly and could be home to unseen germs and bacteria. In general, experts advise replacing your towels every two years.
Bath sheets are like bath towels, only bigger. A standard bath towel is 27 in. x 52 in. while bath sheets are usually 35 in. x 60 in.
Many of our towels can be personalized with a monogram, which will be indicated on the individual Product Pages. We offer an array of thread colors, fonts, and monogram styles to choose from, allowing you to create a custom gift for yourself or someone you love. For more details about personalization, visit our Personalization Guide.
Yes, swatches can be ordered by calling 1-800-289-8508.
Avoid household cleansers, facial cleanser, and toothpaste that contain Benzoyl Peroxide, Retinol, Alpha Hydroxy acids, or Hydrogen Peroxide. These can cause towels to change color or cause spotting or discoloration.
Grams per square meter is the weight of a fabric if you take a one meter by one-meter square piece and weigh it in grams. A towel with higher GSM will be denser and more absorbent than a towel with low GSM.
Bath mats are often thicker versions of your towel's fabric and are used to absorb water and prevent slipping after your bath or shower. The bath mat is typically placed at the foot of the tub or shower. While bath rugs can also absorb water, their main purpose is as decor, to add style to your bathroom. Bath rugs can be placed anywhere in the bathroom—in front of the sink or toilet, by the tub, or even in the middle of the floor. Bath rugs are often plush and can be made of various fabrics.
We offer a varied selection of terry robes and wraps in a wide selection of fabrics. Some of our best sellers are crafted in lighter weight versions of the same fabrics as our towels including Turkish Cotton, Organic Cotton Terry, Egyptian Cotton, and Supima® Cotton.
Yes, we do offer towels that have been tested for color fastness and are perfect for the beach and pool.
The primary difference between Turkish and Egyptian cotton is where they are grown: The hot, dry climates in Turkey and Egypt are ideal for growing the long staple varieties that are considered the finest cottons in the world. Long staple cotton fabrics resist pilling, and are stronger and more durable than those made with short staple cotton.