Your bed is the centerpiece of your bedroom, and the color you choose for a comforter affects not only the style of the space—it can also help create an environment conducive to rest. Our comforter color options run the gamut from neutral white or ivory to vibrant, multi-colored prints. In between, you'll find a rainbow of solids and simple two-tone patterns. Whether you prefer to make a bold, modern impression or drift off amid a sea of calming colors, explore our tips to choose a comforter color that's just right for you.
Tips for Choosing the Best Comforter Color
Designers default to certain methods when choosing hues for home decor. Take a cue from the experts and try these approaches to narrow down your comforter color choices.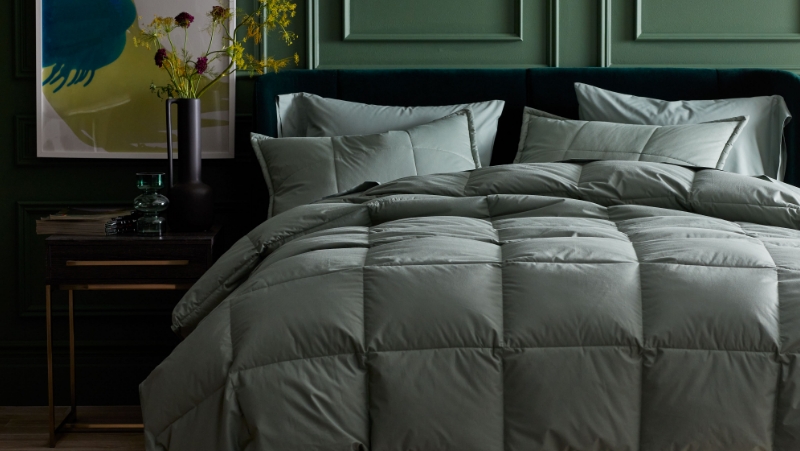 Brainstorm Comforter Ideas Using Color Psychology
Color psychology—or how certain hues make you feel—is commonly used in interior design to achieve a desired mood. The same principles can help you choose a comforter color. Imagine the emotions you'd like your bed to evoke:
If you desire a serene aesthetic that promotes relaxation, calming blues are best for rest, but any comforter in cool colors, muted shades, or pale pastels will do.
Colors associated with nature—brown, beige, tan, and green—make you feel grounded and down to earth.
For a bright and cheerful mood boost in the morning, look for comforters in solids or patterns brimming with vibrant oranges, yellows, and other energizing shades.
Color Theory for Comforter Color Inspiration
Take another trick from the designers' toolbox and use the color wheel to choose a comforter shade that coordinates with your existing decor.
Elegant and refined, a monochrome color palette incorporates the same base hue in varying tones and shades to achieve an almost ombré effect.
Analogous color combinations are common in decor. These hues sit side-by-side on the color wheel—red and orange, pink and purple, green and blue—and are often incorporated into pattern or striped bedding.
Across from each other on the color wheel, complementary colors are all about contrast. Pair green and red, purple and yellow, or orange and blue to create a bold look for a bedroom; to tone it down, opt for muted versions of common complementary hues.
Decorating Ideas to Dress Up a White Comforter
Whether you love the elegant hotel aesthetic of all-white bedding or prefer to add whimsy with patterned sheets or colorful layers, there are plenty of options for how to style a white comforter. Start with a lofty white down comforter as a blank slate, then incorporate hues that add contrast. We love a classic black-and-white bedding look, but navy blue, forest green, burgundy, and other deep tones stand out beautifully against a crisp white backdrop. Or use subtle neutrals to create a soft, romantic space. Beige, ivory, light gray, or tan—pair bedding in neutral shades with a white comforter for a look that feels straight out of a cozy cottage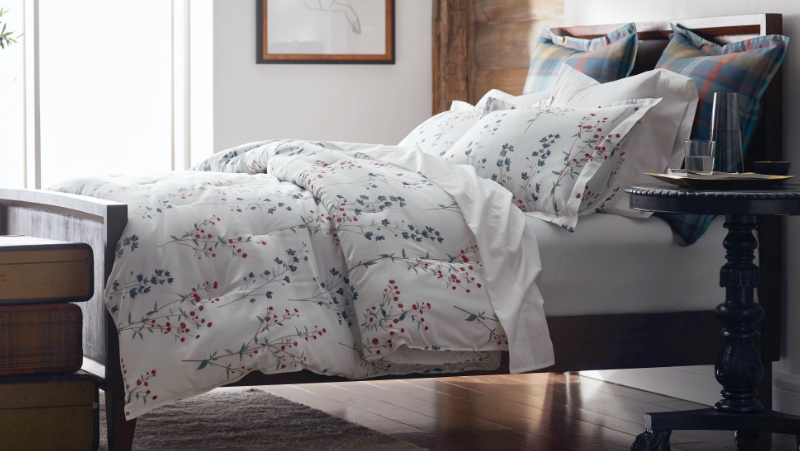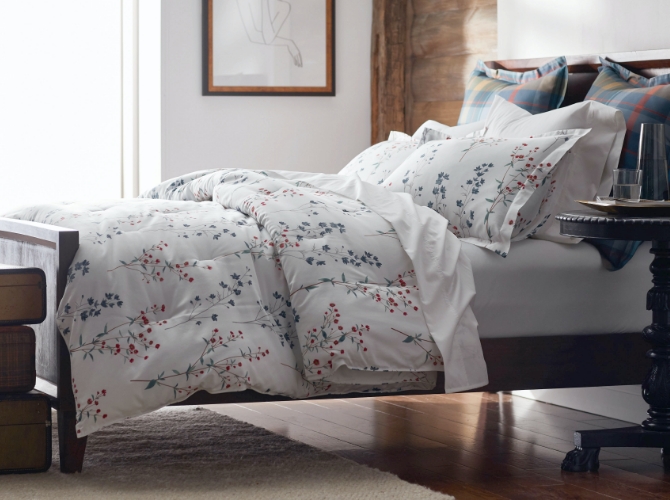 Solid Versus Pattern Comforters
When deciding between solid and pattern comforters, consider the rest of your bedroom's decor and your personal style preferences. With toned-down decor, a pattern comforter offers an opportunity to inject some personality. But if you use prints throughout your room, you may want to opt for a solid comforter that can tie it all together—or choose to mix-and-match patterns for a boho-chic vibe.
Choose the Right Comforter Fabric
Different fabrics can change the look of a comforter, even if the colors are the same. Mimicking the satiny-smooth feel of silk, cotton sateen comforters are elegant and formal. In contrast, jersey knit comforters offer a casual, laid-back look. Opt for a crisp cotton percale comforter shell for a sophisticated look, or create a cozy aesthetic when you add a fuzzy flannel duvet cover for cooler months.
Seasonal Comforter Colors Add a Festive Touch
If you're a fan of changing your bedding throughout the year, let classic colors inspire your comforter choice. Choose traditional seasonal designs in unexpected colors, or opt for solid comforters in familiar festive shades. For the fall, find midweight comforters in harvest-inspired hues; use traditional red and green for winter holidays; and bring summer's brightness to your bedroom with lightweight comforters in vibrant blue, yellow, green, or pink. Or consider a white comforter as a base for seasonal bedding—add holiday-themed shams and a coordinating quilt, make the bed with beachy sheets for summer, or try a subtle floral throw for spring.
If you're hesitant to commit to a single color or pattern, you're in luck: all of our comforters feature corner ties that attach to loops in our duvet covers, so you can update the color of your bed as frequently as you'd like. For more bedding advice and ideas, explore our Tips & Ideas page.