Kids' comforters are a fantastic way to bring color and pattern to the bedroom, and our bedding collection includes designs perfect for kids of all ages—crafted in durable, easy-to-clean materials you'll love. Follow these tips to choose the best comforter material and design for your kid.
The Best Comforter Materials for Kids
When it comes to finding the coziest comforters for children, there are two primary features to consider. Beyond choosing a print or color, kids' comforter selection comes down to:
The comforter shell:

the outside material that holds the fill in place

The fill:

the down or down alternative fiber inside the comforter shell
When shopping for kids' bedding, decide on your preferred comforter fill type and shell material. Patterns and colors are important for design, but shell and fill affect comfort—and, the higher quality the materials, the longer the comforter will last.
Choose a Cozy, Comfortable Shell Material
Cotton is the best comforter shell material. The natural material is warm, soft, and breathable, so your kiddo stays cozy and comfortable all night, without overheating or sweating. While adult comforters come in bamboo, TENCEL™ Lyocell, and linen, cotton is the easiest option for kids. We use T-shirt-soft jersey knit and crisp organic cotton percale in our kids' bedding collection.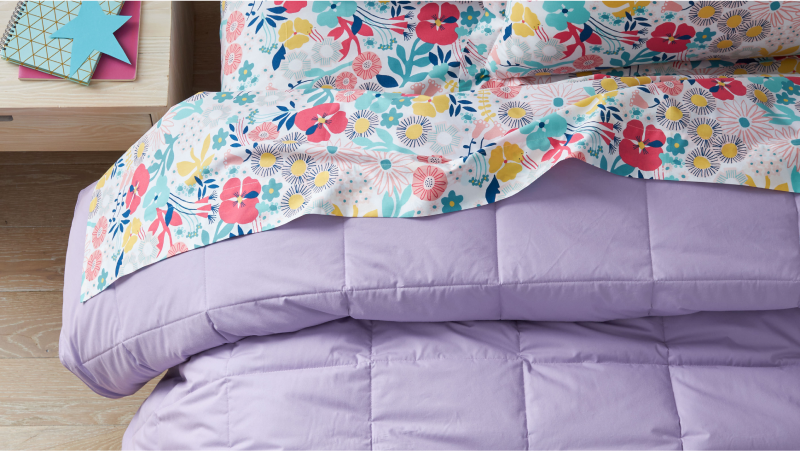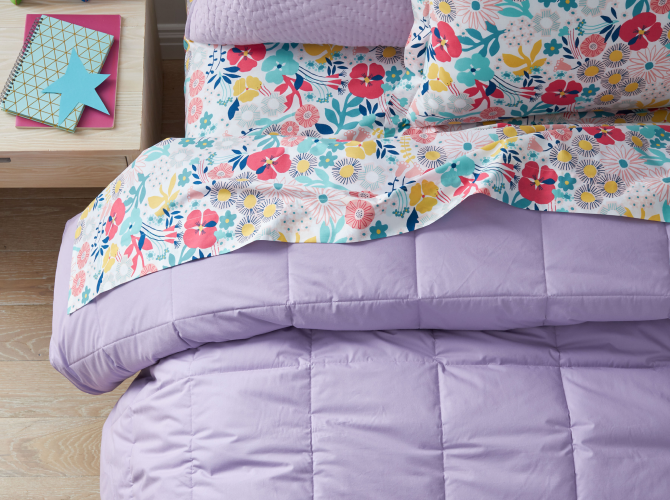 Is Down or Down Alternative Better for Kids?
Down is a lofty, hypoallergenic option for older kids and teens, but most of our kids' comforters feature a synthetic down alternative fill. Down alternative is just as lofty and warm as down, with more options for shell material and design. Down alternative comforter shells can be crafted from cotton percale, jersey knit, or fuzzy flannel—but down comforters require a down-proof shell, so decorative options are limited. If you do choose a down comforter, dress it up any way you please with a kids' duvet cover.
The Choice Is Yours: Kid-Friendly Prints or Colors
You can find theme inspiration for your kid's bedroom anywhere. Our kids' comforter collection includes vibrant prints, classic patterns, and bold solid colors to make the bed of their dreams. Choose a comforter to coordinate with your kid's bedroom theme—sparkling stars, forest critters, mythical creatures, and geometric patterns are colorful options that suit kids' spaces.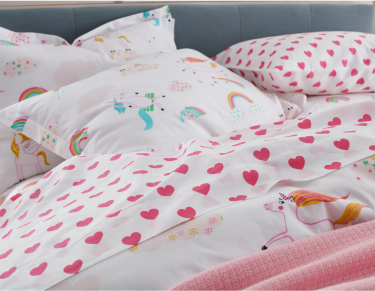 Should Pillowcases Match the Comforter?
Your child may like to mix and match sheets, pillowcases, and comforters, or perhaps they'd prefer a matching set. A comforter set includes matching shams—one sham with a Twin comforter set, two for Full or Queen sets—so your kid's pillows and comforter coordinate.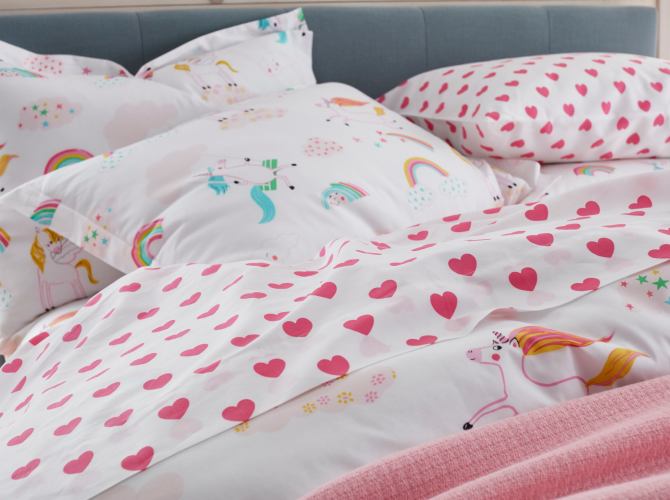 Extra pillows are perfect for a little extra support while reading, but can be set aside when it's time to sleep. There's no reason all of the pillows have to match—choose pillowcases that complement the comforter set for a cohesive look.
Do You Need a Duvet Cover?
A duvet cover can make laundry day easier—simply remove it and toss it in the wash—and it acts as a barrier to keep spills off the comforter. Kids enjoy more freedom with duvet covers, as well: with multiple prints or colors tucked away in the linen closet, kids can change up their bedding whenever the mood strikes.
Let Them Help You Choose
Consider these options for letting your child choose their comforter based on their age:
Preschoolers won't care about fill or shell type, so give them two options—dinosaurs or superheroes, pink or orange, stripes or stars—and let them choose their favorite.
Elementary-aged kids may be excited about creating their own bedroom theme, so let them explore comforter options with you, then tailor their other decor to coordinate with the comforter they choose.
Middle schoolers are growing up fast. They might still love unicorns or spaceships, but sparingly. Explore comforters that can grow with them—mini prints, bright chevron patterns, and solid colors may suit their style at this age. Add a decorative sham to bring a little whimsy to an otherwise-grown-up bed.
Some high schoolers know exactly what style suits them—and others are still figuring it out. Duvet covers offer an ideal amount of flexibility for teens making up their mind. Let them choose a few prints or solid colors so they can update their comforter in a flash.
A kids' comforter can brighten a bedroom or anchor a theme, so follow these quick tips for choosing the best comforter for your child's room. For more design advice, explore our Inspiration Guide.