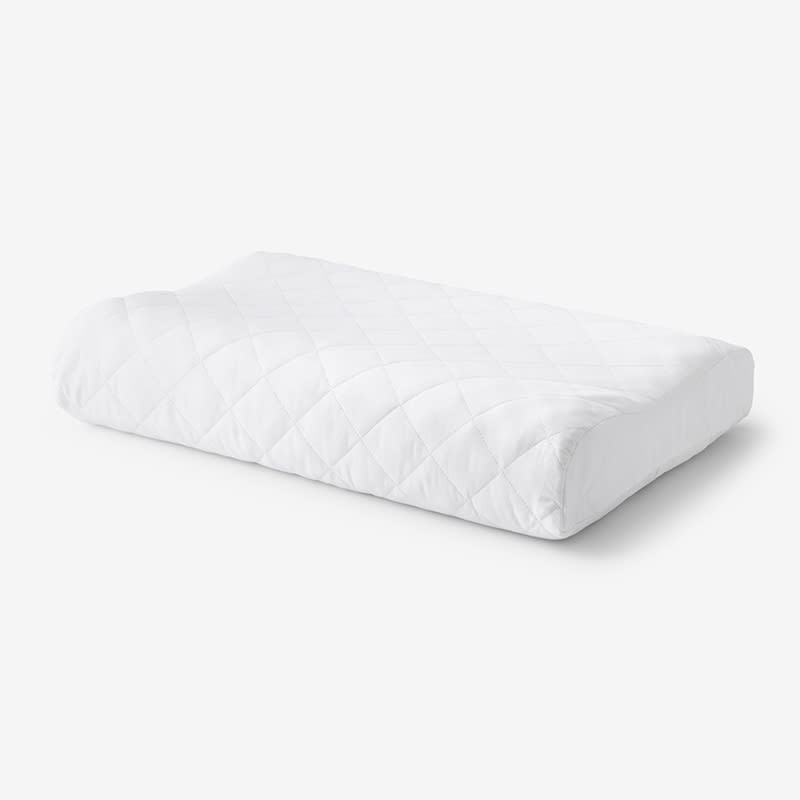 Contour Support Latex Pillow
Contour Support Latex Pillow
Product Overview
Take your sleep to the next level with our natural latex Contour Support Pillow. This textured pillow features a wave design to support your spine in multiple sleeping positions. Add the included quilted COOLMAX® fiber cover for cool, comfortable, and quality sleep.
COOLMAX® is a trademark of the LYCRA Company.
Product Details
Natural latex construction
Wave design suits multiple sleeping positions
Textured surface for extra comfort
Includes 2 covers: a 100% polyester knit cover and a moisture-wicking cover with COOLMAX® fiber
Imported
Size Information
Pillow: 22.75 in. x 13 in.
Care Instructions
NOTE: Do not attempt to machine wash or dry the foam pillow insert. Hand wash and air dry only.
Never place a solid foam pillow in a washer. The movement, especially the final spin, is too harsh and can cause the foam to break./li>
Never place a solid foam pillow in a dryer. It is best to select a warm breezy day to clean foam pillows and allow at least 24 hours for washing and air drying the pillow.
How to Wash Foam Pillow Insert
To deep clean, a foam pillow should be handwashed. Fill a large sink or bathtub with lukewarm water and a small amount of a gentle detergent suitable for handwashing delicate items (about 1 tsp of detergent per gallon of water).
Submerge the pillow completely in soapy water, squeezing gently to move the detergent through the foam for about 10 minutes.
Drain the soapy water and refill the sink with clean fresh water. Squeeze the foam gently to remove the suds. Drain and refill the sink several times with clean water until no more suds appear.
Gently squeeze the foam to remove the water, but do not wring. Wringing can break the foam.
Allow the pillow to air dry on a flat, ventilated surface away from direct heat and sunlight. Do not use a clothes dryer, as the high heat can cause damage, causing the foam to crumble.
How to Spot Clean Foam Pillow Insert
Depending on the thickness of the foam, it can take up to 24 hours to completely dry. If you do not have time to thoroughly wash a foam pillow, spot cleaning can remove stains until it can be washed.
In a small bowl, mix one tablespoon of dishwashing liquid in two cups of lukewarm water. Dip a clean white cloth into the solution and gently blot from the outside of the stain towards the center. Keep moving to a clean area of the cloth as the stain is transferred.
Once the stain has been removed, dip a clean white cloth in plain water and blot to remove and remaining soap. Allow the pillow to air dry completely. If you must speed the process, use a hair dryer set on cool to dry the cleaned area.
How to Clean Pillow Covers
Remove the cover and wash separately in cold water, gentle cycle with mild detergent
Use non-chlorine bleach, if needed
Tumble dry low heat, remove promptly
Do not iron