Looking to add some warmth and style to your home? A quilt is the perfect option—not only do quilts offer warmth and comfort while you sleep, but they also add visual interest to a room and infuse your home with artisan style. The Company Store is known for high-quality, handcrafted bed quilts perfect for every season and our selection is simply unmatched. We've put this quilt buying guide together to help you find the quilt (or quilts) that best reflects your personal style.
Why Choose a Quilt?
When most people hear the word quilt, they think of an heirloom passed down from grandma, but quilts are far from old-fashioned. Today's quilts feature colors, textures, and other details that can turn your bed into a work of art.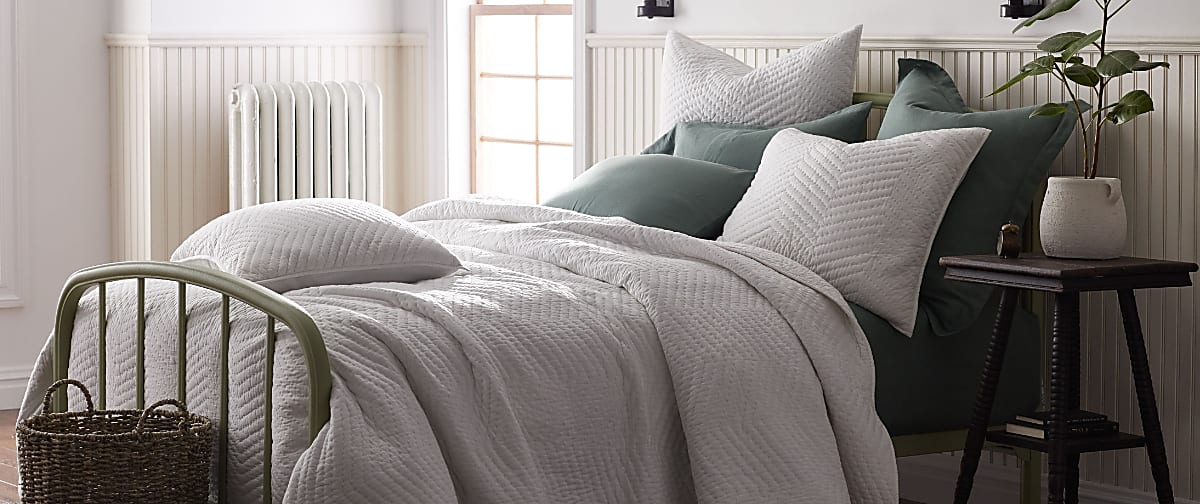 We pride ourselves on putting a modern spin on this traditional bed covering and offer an extensive collection of high-quality and unique quilts to fit any style. Looking to brighten your room, choose one of our handcrafted, patchwork quilts featuring bright colors and bold floral patterns. Is coastal chic your style? We have quilts adorned in the cool, breezy hues of a seaside retreat.
In addition to color, quilts can add delicious texture to your bed. Embroidered details can make a design pop, and don't underestimate the luxurious feel of plush velvet against your skin.
Choosing the Right Quilt
When choosing a quilt, first consider where and how you plan to use it. Will it be a decorative focal point for your bed? An extra layer folded at the end of the bed? Or will it keep you warm while you cuddle on the couch?
One of the best things about quilts is their versatility—light enough to use in summer, but warm enough to serve as an extra layer when colder temperatures arrive. The Company Store offers a selection of quilts in cotton, cotton voile, cotton jersey knit and linen, to name a few.
Cotton: An all-natural fiber, cotton is naturally lightweight and breathable.
Cotton Voile: Derived from the French word for "veil", cotton voile is softer, lighter, and features a sheer, airy quality.
Cotton Jersey Knit: With the comfy-feel of your favorite tee, cotton jersey knit is soft and cozy with a bit of stretch.
Linen: Naturally insulating and breathable, linen has a relaxed, laid-back vibe.
What Are Different Types of Quilts?
In general, quilts consist of three layers—two outer fabric layers and an inner layer of soft batting. Quilting is the stitching that holds the three layers together—though subtle, the pattern and delicacy of the stitching gives each quilt a unique appearance.
There are many different types of quilts including patchwork and wholecloth quilts. Patchwork styles are popular and what most people imagine when they think of quilts. The top layer of a patchwork quilt is made from pieces of cloth which have been torn or cut into squares and triangles, then stitched together, while the top layer of a wholecloth quilt is one solid piece of fabric. Both types of quilts can be embellished with embroidery and appliqué for additional detail.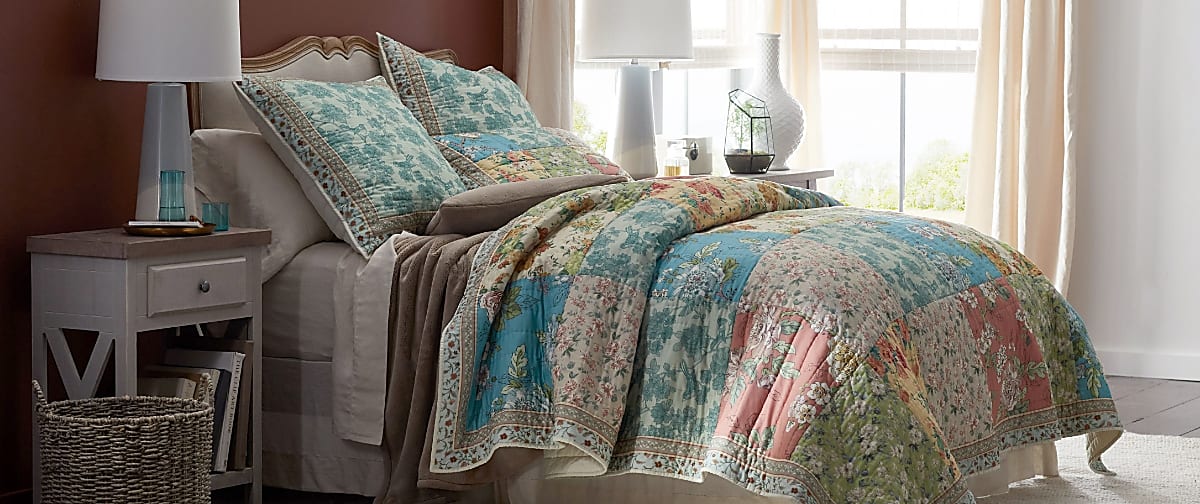 While quilts are traditionally colorful and decorative, modern quilts can provide a clean, minimalist style if that's what is desired. Our solid quilts make a more subtle statement and are great for layering, while our pattern quilts offer bold colors that make a splash, whimsical prints perfect for a kid's room, and soothing designs in muted or neutral hues. Our reversible quilts are another great option that give you double the style.
What Size Quilt Do You Need?
Generally, the size quilt you choose depends on your bed size: choose from Twin, Full, Full/Queen, Queen, and King. You may want to choose a smaller size if you prefer to use your quilt as a throw for a living room couch.
Typical measurements for quilts at The Company Store are:
Twin 70 in. x 90 in.
Full 84 in. x 90 in.
Full/Queen 90 in. x 92 in.
Queen 96 in. x 98 in.
King 114 in. x 99 in.
For exact measurements, check the size information on the quilt product page.
Are Quilts and Coverlets the Same?
Both quilts and coverlets are thin, lightweight bedding options that are good for warm weather or for layering during cool months or shoulder seasons. While they may look similar, take a closer look at their construction and the differences are easy to see.
A quilt is constructed from three layers: two outer layers—which can be sewn from a variety of fabrics–and an inner layer of batting. A coverlet is made from a single layer, and while it may appear to be quilted or woven, it does not have a layer of batting in its core.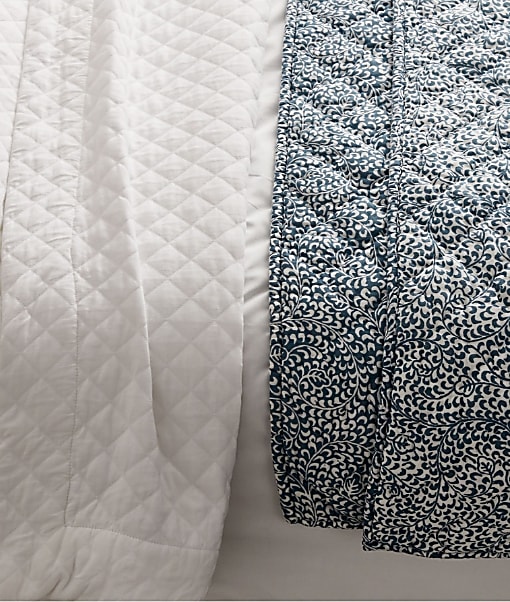 How to Layer With a Quilt
Quilts are versatile layers that can be used on their own during the summer or as an extra layer in the winter.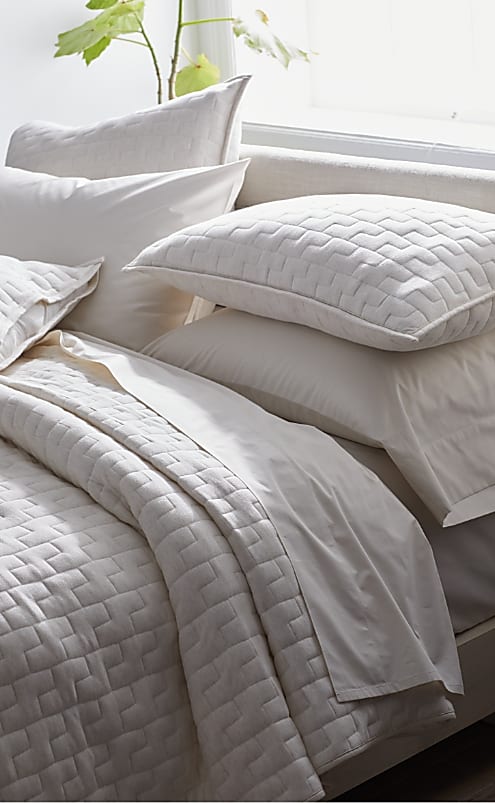 Do you fall asleep cold, but wake up hot? Use a fluffy comforter or duvet insert as the top-most bedding piece and layer a quilt underneath for extra warmth. Choose a comforter that fits the season—lightweight for summer or shoulder seasons, medium-weight for warm climates, and extra- or ultra-warm for cold winter weather—and fold it down if you wake up too warm.
A quilt can also be a decorative layer that complements your comforter. Use the quilt as your topmost layer and fold the comforter at the bottom of the bed. Alternatively, you can pull the comforter all the way to the top of the bed and fold the quilt at the bottom.
In the summer, a quilt can provide just enough warmth—but if you're a cold sleeper, you may choose to keep a coverlet or throw blanket at the foot of the bed just in case you need an extra layer.
Most of our quilts also have coordinating pillow shams and Euro shams so you can create a cohesive look for your bed.
How to Wash a Quilt
One of the biggest causes of wear and tear on a quilt is washing it. Unlike sheets, it isn't necessary to wash your quilt very often. In fact, quilts can be washed just once a year. Fortunately, most quilts are machine washable, so laundering is easy.
Know how to care for your quilt before you wash and dry it. It is always best practice to follow the care instructions that come with your quilt, but some general guidelines hold true:
Use a mild soap and the gentle setting on your washing machine.
To prevent damage to your quilt in the dryer, only use the low heat setting.
If you air dry your quilt, avoid hanging it on the line as it's too heavy and it may stretch the fabric or pop seams. Lay it flat, instead.
To freshen your quilt without washing it, place it into the clothes dryer on low or air dry/fluff setting, and add a few tennis balls or our wool dryer balls to fluff it up.
When it comes to quilts, we offer plenty of options—explore our collection and find the one (or two or three) to fit your personal style. Explore our Tips & Ideas page for more information on bedding, bath linens, and sleep tips.