One of the biggest challenges when preparing for a newborn is narrowing down what you need—and what you don't. While the necessity of some products comes down to personal preference, certain items are non-negotiable. Explore our guide to getting ready for baby and find nursery and bath checklists that cover all the basics.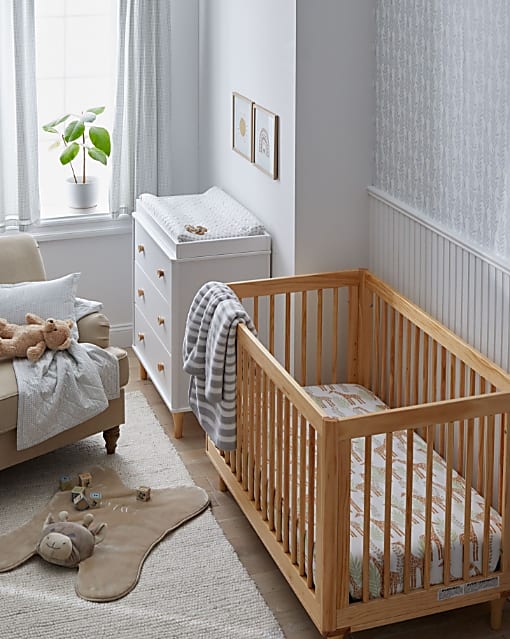 Baby Room Essentials
Depending on the layout of your home, your nursery will be the space where baby sleeps, as well as where they have their diapers changed, where they are read bedtime stories, and even where they play. Start with furniture—a crib, dresser, changing table, comfortable rocking chair or glider, and bookcase or other practical storage. Then, add an area rug for comfort on hardwood floors or to soften carpeted rooms. Linens and other nursery essentials further define the style of your space; stock the nursery with these necessities for the crib, changing table, and play area.
Crib Bedding Essentials
Forget blankets, crib pads, bumpers, or pillows: according to the American Academy of Pediatrics, the safest sleeping environment for babies is an empty crib, so stick to the basics when it comes to baby bedding.
Look for a firm, supportive crib mattress designed specifically for babies. Avoid memory foam crib mattresses or soft, cushy toppers, which can pose a suffocation risk.
A properly fitting cover is for practicality, not comfort: add a protective layer with a waterproof crib mattress cover that blocks spit up, drool, and leaking diapers from staining or dirtying the surface. Keep two covers on hand so you can quickly change if the need arises.
Look for high-quality crib sheets made from organic materials that are gentle for the baby and good for the planet. Our organic cotton percale sheets are durable, breathable, and available in an array of baby-friendly prints to suit a sophisticated nursery aesthetic.
A crib skirt slides between the mattress and crib base, drapes down to the floor, and can serve as both a decorative accent and helpful tool for hiding under-bed storage of extra crib bedding or baby clothes in the next size up.
Changing Essentials
Whether you have a dedicated changing table or a dresser topped with a changing pad, this area should be comfortable for baby—and convenient for you. Accessorize with these baby-changing essentials:
A cushioned, supportive changing pad keeps baby comfortable when it's time for a clean diaper or to get dressed for the day. Look for a changing pad with raised sides that makes it harder for them to roll off, and a strap that buckles to keep baby put when they start to wiggle. Never leave baby unattended on the changing pad: even the strap doesn't prevent falls.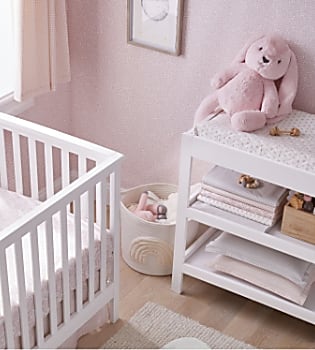 Add a decorative touch and a practical, protective layer with a changing pad cover in a pattern or color to complement your crib bedding. We recommend one cover on the pad and a couple in the drawer so you can quickly swap them out when needed.
Keep wipes, ointments, and extra diapers at the ready in a basket or bin placed conveniently next to your changing pad.
A diaper pail keeps wet and dirty diapers—and their accompanying odors—contained.
Other Nursery Essentials
Stock up on other nursery necessities to set the scene for growing and to help your littlest one start to explore the world—and keep them comfortable while doing so.
Never use blankets at bedtime, but stock up for other occasions: a stroller blanket keeps baby warm during walks, doubles as a makeshift play mat when you're on the go, and adds a cozy extra layer for skin-to-skin cuddles.
A plush, texture-rich play mat is the perfect accessory for tummy time; made with cozy, touchable materials, our play mats engage baby's senses and keep them comfortable.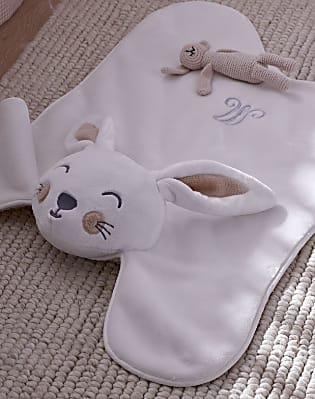 Window treatments filter or block light to create the ideal sleeping environment for your child, but they are also an important decorative consideration: choose nursery curtains in colors and patterns that coordinate with or complement your crib bedding.
Spit up, drool, spilt milk—soak it all up with an absorbent burp cloth, or use a spare washcloth in a pinch. Keep plenty handy: you'll need them.

Sound Machine, Nightlight, Table Lamp, Baby Monitor

Soothing sleep aids, including nightlights and sound machines, are important for creating an ideal environment for rest. Add a table lamp with a low-wattage bulb to help you see during middle-of-the-night diaper changes. And don't forget to choose an audio or video monitor that allows you to keep tabs on baby when you're not in the room—a practical tool for nervous new parents as well as well-seasoned ones.
Baby Bath Checklist
You don't need much to keep baby clean. Beyond your preferred toiletries (soap and lotion), stock up on these bath time must-haves: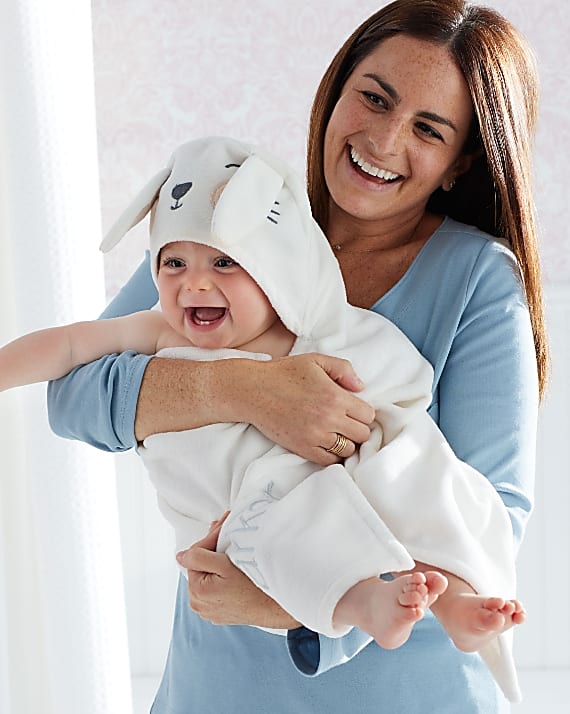 Soft cotton washcloths are delicate enough for baby's sensitive skin. Use a new washcloth every bath time—and remember, the more baby bath linens you have on hand, the less frequently you'll have to launder them.
Hooded towels are best for baby because they keep the head warm and help hair dry faster after a bath, which is especially important when baby is brand new and during cold winter months. Make bath time cute and playful by choosing hooded towels designed to look like your favorite cuddly critters.
Complement your nursery linens with coordinating nursery wallpaper to set the scene for bringing baby home and watching them grow. For more design tips and ideas, explore our Product Guides.