Bring neutral hues to the bedroom with sheets, blankets, bedding, furniture, and accents in versatile, subtle shades. Beyond paint and carpets, your bedding offers the biggest impact when it comes to experimenting with colors. Neutrals are perfect because they coordinate with almost any wall color—if you keep a few things in mind. Check out our decor tips and learn how to build a neutral bedding look that is anything but boring.
Warm Neutrals Versus Cool Neutrals
When choosing neutral hues that go well together, consider the type of neutral you prefer and what pairs well with your furniture and wall color. Generally, neutral colors are split into warm or cool types.
Warm neutrals feature undertones of red, yellow, orange, or pink. These include rosy beiges, buttery yellow-whites, sandy tans, or creamy ivories.
Cool neutrals offer gray, green, purple, or blue undertones. Consider dreamy violet-gray or bluish slate to bring cool neutrals into your space.
Our Favorite Neutral Bedding Ideas
Neutral color palettes can be tailored to your tastes when you go beyond white, gray, and beige—though each has its benefits. When building a neutral theme, remember that bedroom decor is more than walls and sheets alone. Mix and match throw blankets, shams, and decorative pillows to create a neutral bedding look that's all you, and bring coordinating pops of color in with lamps, picture frames, wall art, and other bedroom accessories. Explore a few of our favorite neutral color scheme ideas.
Go for Contrast
Gray against off-white, rust and creamy ivory, deep black with bright white: these contrasting neutral pairs are perfectly dreamy options for the bedroom. Fill out the space with accents in complementing neutral shades and non-neutral colors for a pulled-together look. For a bold option, consider nautical-themed and maritime-inspired color schemes: pair navy, coral, red, or turquoise with crisp white for a contrast win.
MUTED MONOCHROME
For a subtle monochrome style, choose one neutral hue and stick with it. Instead of repeating the same shade of one color throughout, choose varying light to dark shades of your favorite neutral for mix-and-match monochrome decor. Use light-hued pillowcases, fold a dark quilt or coverlet at the foot of the bed, and choose a middle-of-the-road shade for your comforter to create a color block ombré effect. Several shades of brown and taupe, layers upon layers of bluish grays, or an all-white aesthetic are elegant monochrome bedroom options.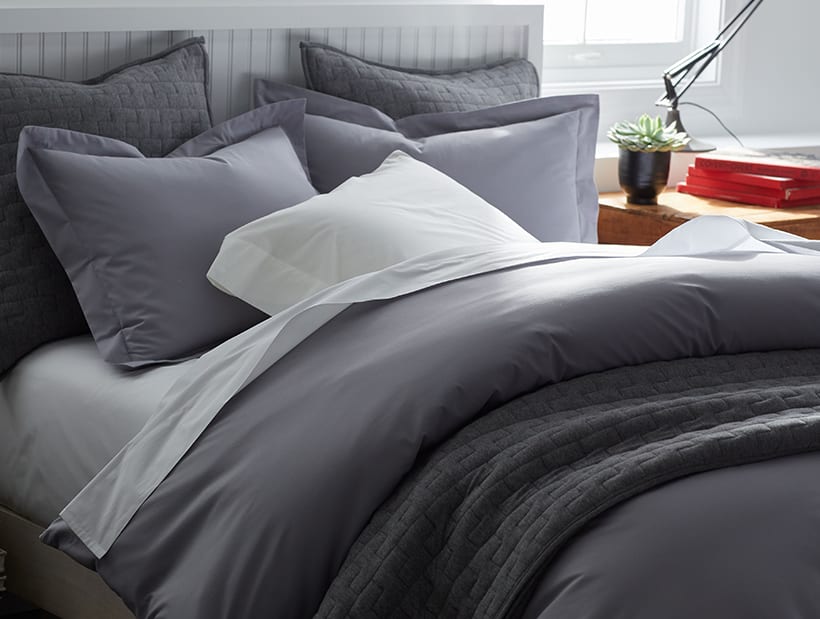 Yes, Pink Is Neutral
While it's not the first color people think of, pink can be considered a neutral color because it pairs wonderfully with nearly everything—especially white, blue, black, brown, and green. Fans of pink can bring the shade into their neutral theme with blush-toned hues and rosy accents:
Match up pink-tinted beige with cream
Pair peach and frosty white
Bring together blush pink and gold-tinted white
Combine champagne pink with lilac-tinted gray
Let the Accessories Pop
Pair neutral-hued bedding with bold decorative pillows, throw blankets, and other accent items. This is a great opportunity to incorporate darker neutrals: pull in navy blue, black, or shadowy gray to amp up the wow factor.
Lime green throw pillows stand out against dark brown bedding
A gray and white quilt pairs beautifully with a cranberry-red throw blanket
Bold fuchsia accents complement cool gray, deep black, or yellowy beige
A single bold jewel-tone accent piece—think emerald, amethyst, ruby, sapphire—plays nicely against gray, ivory, or brown
Light coral pink and olive green are both neutrals that offer fun contrast
Neutral Hues, Many Textures
A blend of textures adds dimension. Get creative with gray, white, ivory, or beige bedding in various textures: options include linen sheets, silky-smooth sateen comforters, plush throw blankets, or velvety soft decorative pillow covers. Incorporate a jacquard-woven or matelassé coverlet in white or beige, or choose fuzzy flannel sheets in wintry neutrals.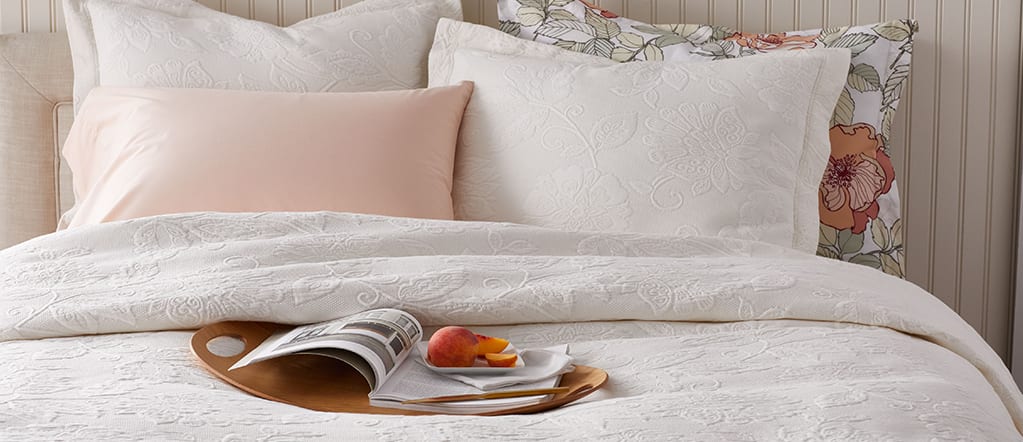 Neutral colors come in warm and cool varieties, so choose hues with similar undertones for a seamless mix-and-match decor style. Pair neutrals with bright or bold accent colors, or carry subtle shades throughout the whole room. For more decor tips and bedding ideas, explore our Inspiration Guide.