Decorating a baby's nursery is an exciting occasion, and wallpaper provides a perfect, easy solution to bring color and pattern to the space. Explore our nursery inspiration to find whole-room wallpaper ideas to wallpaper options that complement perfect-for-baby bedding, accessories, and paint colors.
Benefits of Wallpaper for a Nursery
Wallpaper helps create a stunning nursery space. Because wallpaper is printed, it provides more design options than painting—you can choose from bright and stimulating patterns or soothing designs in neutral hues. Even better, it requires no time-consuming taping or meticulous cutting-in. After all, you have plenty else to do to prepare for baby's arrival. Durable wallpaper options can withstand scuffs, bumps, and scrapes—and clean easier than paint when inevitable messes happen.
Is Wallpaper Safe for the Nursery?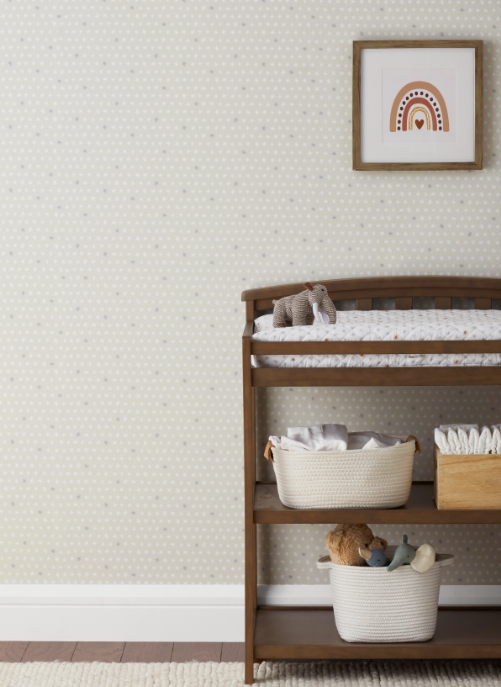 Is Wallpaper Safe for the Nursery?
While wallpaper may leave a mild odor that requires minor airing-out after application, you can find safe wallpaper options for nurseries. The best wallpapers for baby's room are eco-friendly versions made without vinyl, PVC, or plastic coatings; look for wallpapers printed using non-toxic inks and backed with safe, odorless adhesives.
Peel-and-Stick Versus Traditional Wallpaper
Wallpaper has come a long way in recent years, moving from messy paste to full-sheet and peel-and-stick varieties with hundreds of design options. When choosing between traditional versus peel-and-stick wallpaper, consider required preparation before application. While both provide fun prints for kid's spaces, peel-and-stick wallpaper must be applied to primed and satin or semi-gloss painted surfaces for best results—the adhesive won't stick properly to matte or flat painted surfaces—while traditional wallpaper only requires a coat of primer prior to installation. Removable peel-and-stick wallpaper lets you change up the design as your baby grows to match their interests and personality without a huge renovation project.
Quick Decor Tip: Peel-and-stick wallpaper is a great option for renters because it is quick and easy to install, and removes without a trace.
Wallpaper Inspiration for the Nursery
Wallpaper can cover a room or coordinate with painted walls for added pop. Choose a nursery theme, select paint colors and wallpaper to suit, and fill in with bedding, blankets, decor, and accessories to complete the look. Here are some of our favorite ways to use wallpaper in the nursery.
Choose Versatile Prints
Designs that grow with kids last years without needing to be replaced. When you wallpaper the room with stripes, zig-zags, mini stars, or solid-hued wallpaper, you get a versatile palette that can be mixed and matched with different bedding pieces as your baby grows into a toddler, then a big kid. As a bonus, bold patterns in contrasting colors provide visual stimulation and help develop baby's vision.
Quick Decor Tip: Pair bold navy and blue striped wallpaper with sheets, a changing pad cover, and a plush rug inspired by the sea: whale's tails, starfish, sailboats, or anchors are an easy start for a nautical nursery theme.
Create an Accent Wall
Apply wallpaper to one wall and paint the rest in a coordinating color for a fun way to incorporate wallpaper into the nursery. A dreamy cloud print, vibrant stripes, jungle animals, construction vehicles—choose your favorite theme and bring it to life on one wall, then pull in an accent color from the design for painting the remainder of the room. Mini-print or solid crib sheets are adaptable options for creating a cohesive look.
Quick Decor Tip: Stick with one color for the painted walls and an optional second color for the trim—painting each wall a different color may be a little too bold.
Half-and-Half Wallpaper and Paint
Divide the wall horizontally, either at center or above or below the middle line, then paint one section and apply wallpaper to the other. This works well for all-over print wallpaper and options in subtly textured prints. For a little extra flair, use a complementing wallpaper border to cover the edge of the wallpaper.
This nursery wallpaper technique leaves space for plenty of creativity when it comes to coordinating bedding, carpets, and baby accessories: textured prints look great with floral printed crib sheets, ocean-themed wallpapers pair perfectly with bedding in blue hues, and polka dot sheets work with most any wallpaper design, from florals and swirls to pet-themed patterns or rocket ships. Simply choose colors that coordinate for a fun finished product.
Quick Decor Tip: You can also install chair rail molding to cover the wallpaper seam; this decorative accent is usually installed between 28 to 32 inches from the floor.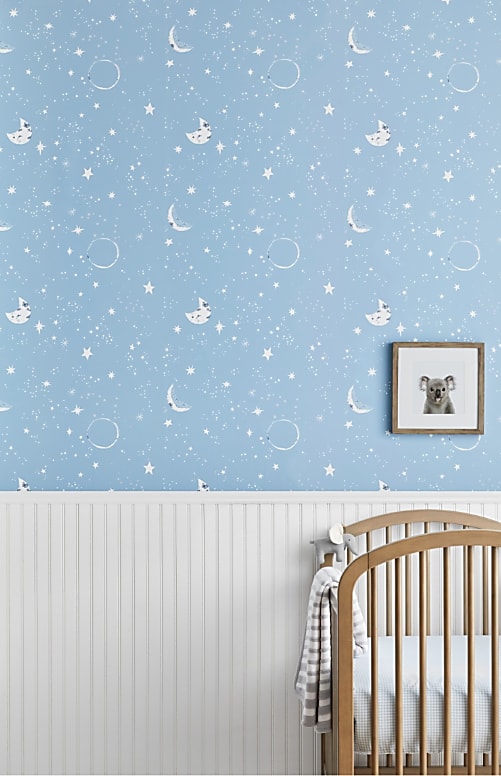 Fun Wallpaper Shapes
Not ready to commit to wallpaper, but want to brighten baby's space? Paint the walls, then apply adhesive-backed wallpaper pieces in fun, baby-friendly shapes. Adhesive-backed decals stick quickly and easily, so you can decorate in no time—but they are designed to be removable and repositionable in case you need to rearrange or update the decor. Pair safari-inspired tree shapes with giraffe-print sheets, butterfly-shaped decals with floral print baby bedding, or rocket ships and planets with space-inspired sheets.
Quick Decor Tip: Bring some geometric inspiration to the nursery when you choose multiple coordinating wallpaper prints and colors, then cut and apply your own shapes: triangles, circles, hearts, or stars can all be artfully arranged.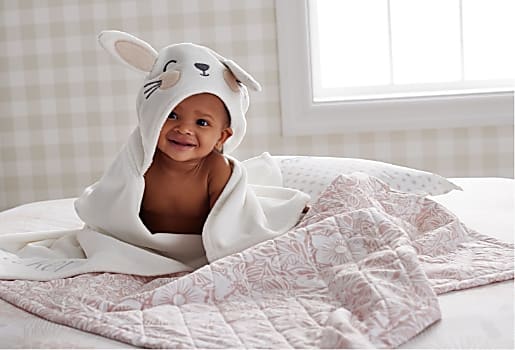 Wallpaper can be a cute and versatile option for the nursery, especially when paired with coordinating bedding and baby accessories. Choose a theme and work within a set color palette to create a nursery perfect for baby. For more design tips and ideas, explore our Inspiration Guide.