When it comes to bed sheets, natural materials are superior due to their moisture-wicking, breathable qualities. There are so many sheet fabric options to choose from, including popular linen and cotton. We highlight the similarities, explain the differences, and offer advice to help you choose between these two natural materials so you can get the bedding that's right for you.
How to Choose Between Linen and Cotton Sheets
Overall, if you're looking for breathable, easy-care sheets that feel great against the skin, you can't go wrong with either linen or cotton. But, consider these differences and features when deciding between cotton versus linen sheets.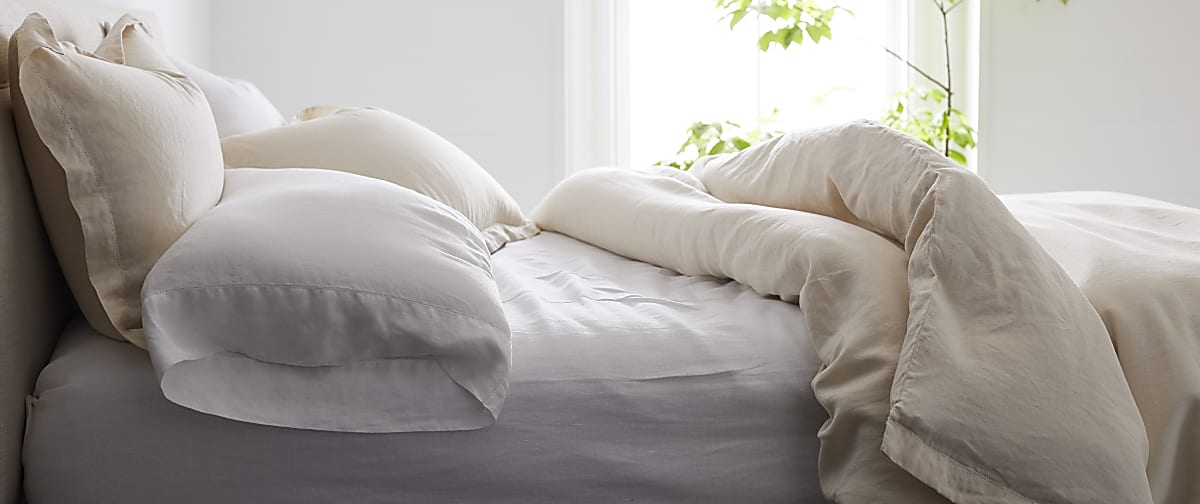 Benefits of Linen Sheets
Linen comes from the flax plant. Its fibers are extracted, spun, and woven into linen fabric. It's one of the oldest textiles in the world and has been in use for thousands of years.
If you're looking for more reasons to love linen, other top benefits of linen sheets include:
Crafted of natural fibers
Strong and durable
Incredibly breathable
Moisture-wicking and highly absorbent
Cool in summer, warm in winter
Antibacterial properties
While you can launder linen in the washing machine, this fabric is prone to wrinkles—they're part of linen's relaxed, laid-back charm. You can reduce wrinkles by washing your sheets in cold water, then drying on a low heat setting.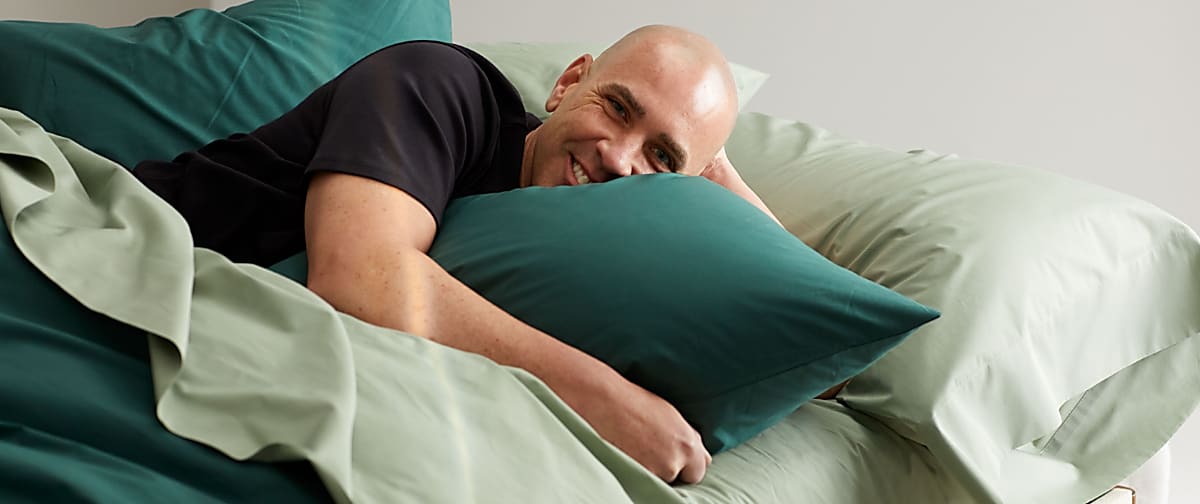 Benefits of Cotton Sheets
Fibers from the cotton plant are cleaned, carded, and spun—occasionally blended with other natural or synthetic materials. The spun cotton is then woven or knit into fabric. Specific qualities such as warmth level and softness differ depending on the fabric construction—cotton sateen sheets are silky smooth and extra-warm, percale weaves are crisp and cool, fuzzy flannel is insulating in cold weather, and jersey knit offers the comfort of a favorite T-shirt.
Versatile cotton sheets offer many benefits:
Natural material, with organic options available
Insulating for warmth, breathable for comfort
Moisture-wicking
Low-maintenance and easy to clean
Wrinkle-resistant options available
Rayon made from bamboo or other blend options are eco-friendly
Linen Versus Cotton Sheets: How Do They Compare?
Linen and cotton are some of the best sheet fabrics available, but there are a few notable differences between these materials. Consider care, feel, and appearance to determine your preferences.
Differences Between Linen and Cotton Sheets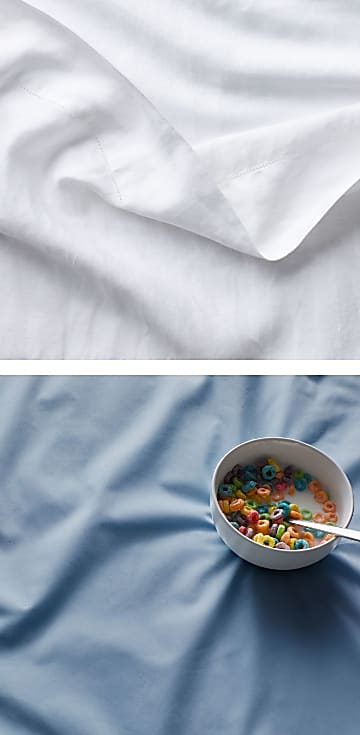 Wrinkles:

If you prefer crisp sheets without a wrinkle in sight, linen may not be ideal for you. While ironing can remove some of linen's natural rumples, the wrinkles and creases are inevitable. Cotton is easier to keep smooth and wrinkle-free, but the crinkled look of well-loved linen offers a laid-back vibe.

Softness:

Both linen and cotton sheets are soft, but linen has a slight edge here because they get softer with every wash. Cotton sheets may differ in softness depending on the weave you choose: percale offers a crisp feel, sateen is buttery-smooth, flannel is napped for a fuzzy surface, and cotton/rayon made from bamboo blends are incredibly silky.

Style:

For people who prefer bedding in colorful prints, patterns, and solid hues, you may find cotton to be a better option. Linen sheets come in a variety of gorgeous neutrals and patterns, but cotton sheets offer a wider range of colorful designs and styles.
Are Linen Sheets Cooler Than Cotton?
Linen and cotton are both suitable for hot sleepers: these moisture-wicking materials pull sweat away from the body, helping to keep you comfortably cool while you sleep. When looking for cool cotton sheets, percale or a bamboo blend are good options—skip heavier sateen if you're prone to hot, sweaty sleep. Linen, which is crafted of longer fibers that create a looser weave, is often preferred over cotton for the coolest sleep. Linen is also more absorbent than cotton, making moisture-wicking a linen superpower.
Is Cotton or Linen Better for Breathability?
Both linen and cotton are breathable, but which is more breathable depends on other factors. Linen's hollow fibers allow excellent air circulation for an incredibly breathable option, while cotton may be more or less breathable depending on the weave.
Do Linen Sheets Last Longer Than Cotton?
When it comes to durability, linen is a winner. The longer flax fibers that improve breathability and moisture-wicking also create a stronger fabric, making linen a superior option that outlasts many other bedding materials. Linen sheets may be more expensive upfront than cotton sheets, but overall, the longevity of linen balances out its cost. Cotton is also a durable option, but linen has a slight advantage when it comes to lifespan.
Natural materials are the best options for bed sheets, and you can't go wrong when choosing between linen versus cotton. After you've decided, explore our Inspiration Guide for more bedding and decor tips.