If the question of how to make your bed more comfortable is keeping you up at night, consider adding a mattress topper or pad that suits your sleeping preferences. Whether a lofty featherbed filled with down or a practical waterproof mattress pad, this bedding layer can transform a subpar mattress into your ideal sleeping surface. Our Buying Guide covers the difference between the two types of bedding, the best materials for various sleeping preferences, and other factors to consider when choosing which mattress pad or topper is right for you.
Mattress Pad vs. Mattress Topper: What Is the Difference?
The difference between a mattress pad and a mattress topper is minimal: Both are functional bedding layers added between the fitted sheet and the mattress. While mattress toppers are typically chosen for comfort, a mattress pad is a thinner bedding layer that serves the dual purpose of comfort and protection and may include additional features.
Do I Need a Mattress Topper or Pad?
From extending the life of an old mattress to softening a firm dorm room bed, there are many reasons you may want to use a mattress topper or pad—most of them having to do with comfort. Consider these common needs to narrow down the best solution for your bed.
| Need | Topper | Pad |
| --- | --- | --- |
| Mattress is too soft | X | X |
| Mattress is too firm | X | X |
| Mattress is old | X | X |
| You get hot when you sleep | | X |
| You are often chilly overnight | | X |
| You want to protect your mattress | | X |
Types of Mattress Toppers and Pads
The right mattress topper or pad can make a world of difference in your quality of sleep. When it comes to what to look for in a mattress topper (or pad), the biggest factor is material. From down-and-feather-filled options to simple cotton pads, explore the types of mattress toppers available at The Company Store and learn the benefits of each.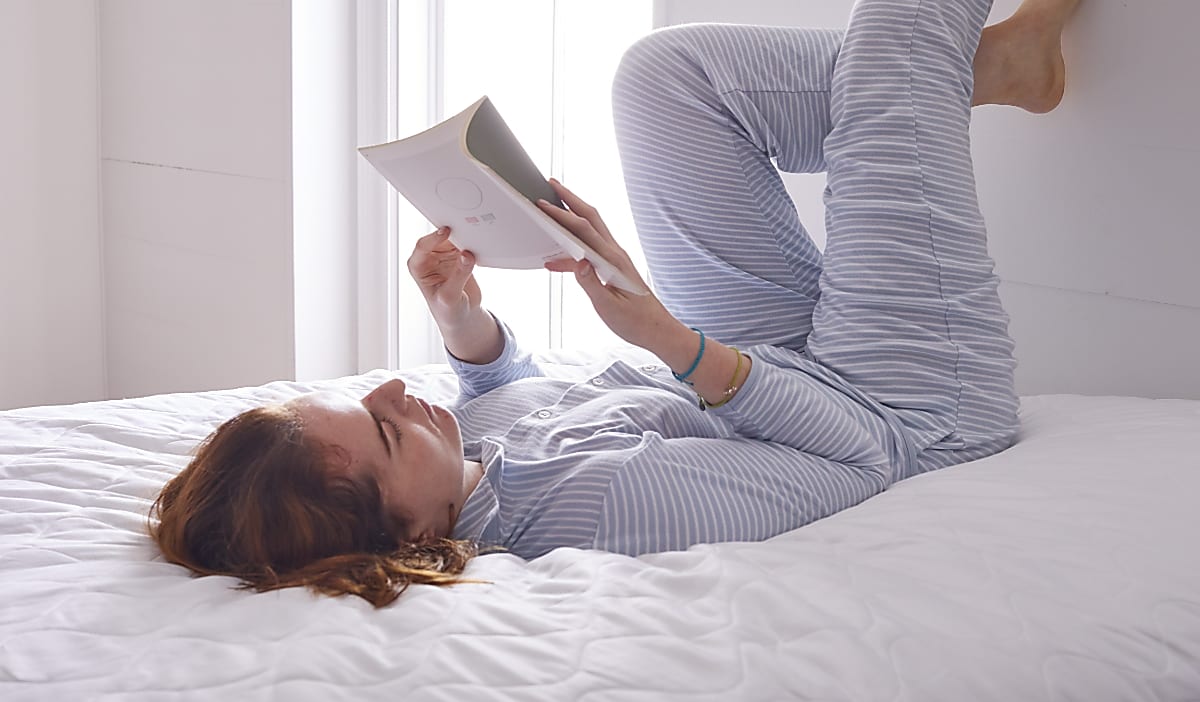 Featherbeds
The loftiest and most sumptuous option for achieving a softer sleeping surface, a featherbed is filled with a blend of down and feathers. Balancing down's characteristic airiness, the feathers add bulk and prevent the topper from completely compressing when you lie on top of it. Extra-deep baffle-quilted squares keep the fluffy fill contained, so you still enjoy the sensation of sinking into a cloud every time you lie down. Although the term "featherbed" is traditionally reserved for toppers filled with a blend of down and feathers, we also offer extra-thick down alternative mattress toppers that function as featherbeds.
Down and Down Alternative Mattress Toppers and Pads
Both down and down alternative mattress toppers or pads offer the characteristic loft associated with these premium fill materials; the only difference is the depth of the layer. Choose a thick down or down alternative mattress topper to give your bed that sink-straight-into sensation, or opt for a lower-profile pillow-top mattress pad filled with down or down alternative.
Memory Foam Mattress Pads
For those who need to firm up a soft mattress, a memory foam topper or pad may be the best option. The dense, sponge-like material contours to your body for personalized, ergonomic support, and the associated pressure-relieving benefits make it less likely you'll spend crucial sleeping time tossing and turning.
Comfort Tip: Dense memory foam can trap your body's heat, making for warmer sleep. Look for memory foam mattress toppers and pads with cooling features for optimal comfort in any season, especially if you usually sleep hot.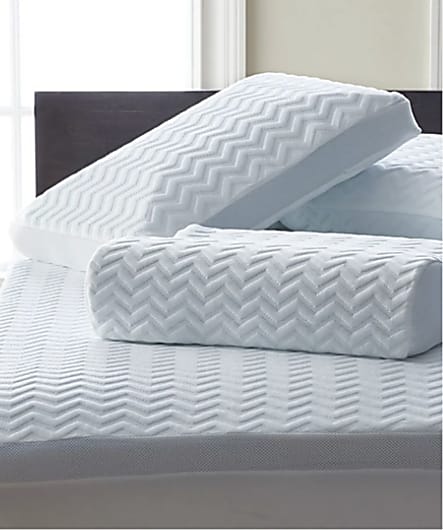 Wool Mattress Pads
Plush wool makes the perfect base for a cozy, good night's sleep. The soft, breathable, and super-warm material may be commonly associated with winter bedding, but its inherent moisture-wicking and temperature-regulating properties make it an ideal option for any-season warmth. Plus, hypoallergenic and dust mite-resistant wool mattress pads are a suitable choice for allergy sufferers.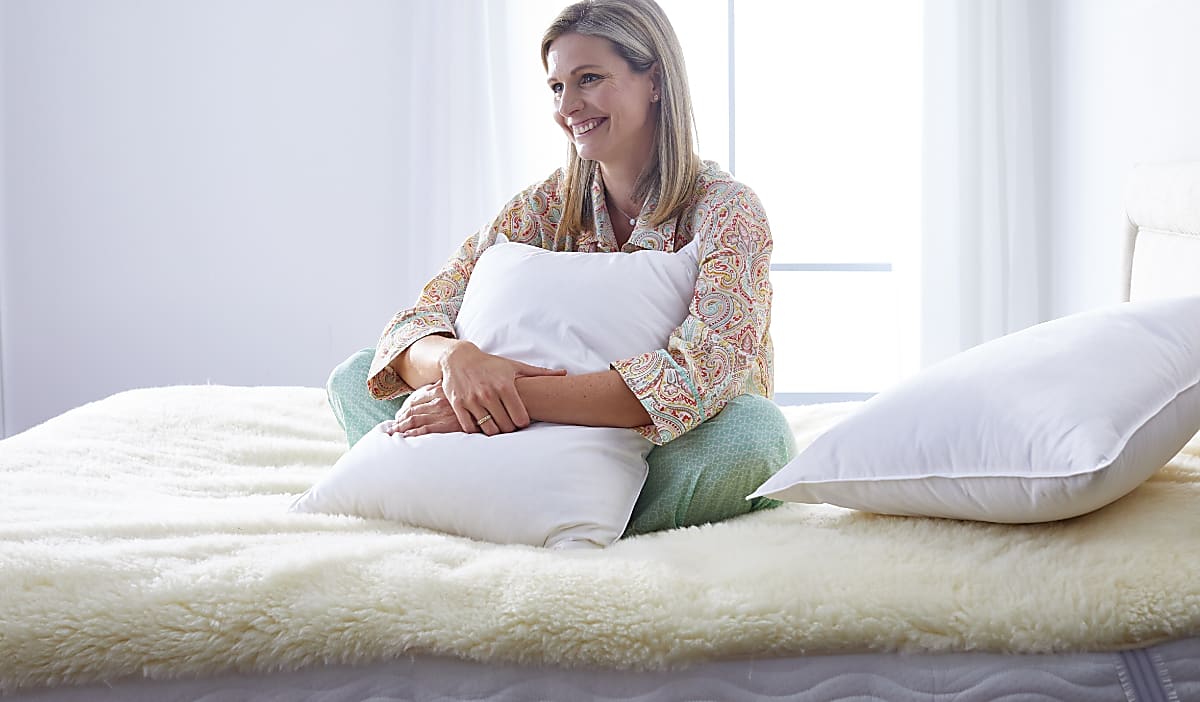 Other Types of Mattress Pads
Some mattress pads are of the plain quilted cotton variety, while others are enhanced with additional comfort-focused benefits. Whether you're prone to shivers while you sleep or are looking for a practical mattress pad for kids, consider these options for an ultra-functional bedding layer.
Cooling Mattress Pads: Whether it's filled with a gel-infused memory foam or special COOLMAX® fibers, a cooling mattress pad or topper makes warmer nights more comfortable for even the hottest sleepers.
Heating Mattress Pads: Safely warm your bed for cozy sleep on chilly nights with a heating mattress pad. Ours feature one or two remotes, depending on your mattress size, so each sleeper can customize their temperature.
Waterproof Mattress Pads: A waterproof pad protects your mattress from stains and spills without inhibiting its comfort.
What Size Mattress Pad or Topper Should I Get?
Mattress pads and toppers are available in the same sizes as other bedding, ranging from Twin and Twin XL all the way to California King. Simply put, the best mattress topper or pad for your bed will coordinate with its size.
Consider Mattress Pad and Topper Construction Details
In general, a mattress topper simply rests on top of the mattress and is held in place by a fitted sheet, while a mattress pad often features an elastic-edged skirt that slips around the mattress to hold it in place. When choosing a mattress pad, take the depth of your mattress into account to ensure a proper fit. Most of our pads are designed to accommodate extra-deep mattresses up to 18 in. or 22 in. thick, but check your chosen product's specifications before purchasing.
The most comfortable bed starts with a smart base: Add a mattress pad or topper to make any bed better suited for your individual preferences and needs. For more bedding tips and ideas for better sleep, explore our Inspiration Guide.