Playful prints, soothing colors, matching family designs—when it comes to choosing pajamas, fashion may be a major factor, but it's really comfort that's key. Swap old, worn-out loungewear for high-quality pajamas made with breathable materials and enjoy greater comfort for better sleep. Wondering how to choose the comfiest pajamas? We've got you covered: consider fabric, style, and fit to find the best PJs for you.
Choose the Best Fabric for Your Pajamas
When choosing pajamas, follow this easy tip: avoid polyester or synthetic materials, and opt instead for natural fabrics. Cotton is considered the best material for sleepwear for kids and adults. The soft, natural material is breathable, durable, and versatile—plus, it's available in a range of weaves and weights to suit any season. Temperature-regulating, breathable, and moisture-wicking TENCEL™ Modal is another solid contender for best pajama fabric.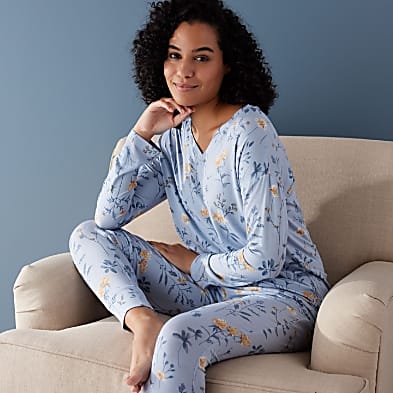 Pajama Fabrics Comparison Guide
Our pajamas are designed for comfort and are crafted from materials like light and airy cotton voile and extra-soft TENCEL™ Modal. Explore our easy guide to find the best pajama fabrics for winter, summer, and year-round comfort.
Material

Feels

Best For

Cotton Voile
Lightweight and airy
Spring and summer, warm weather
Cotton Poplin
Cool and crisp, like a worn-in

button-down shirt

Spring and summer, warm weather
Organic Cotton Ribbed Knit
Soft, cozy, and snug
Year-round comfort
Pima Cotton
Exceptionally soft with an exquisite drape
Year-round comfort
TENCEL™ Modal
Breathable, temperature-regulating, and soft
Year-round comfort
Cotton Flannel
Soft, snuggly, and slightly fuzzy
Winter weather and cold temperatures
Select Your Pajama Style
Pajama design has just as much to do with comfort as it does with style. Consider the primary types of kids', men's, and women's pajamas to find the style that suits you best.
Popular pajamas styles include:
Nightshirts,

also called sleepshirts, are typically oversized, loose, and hit right above the knee. These can be button-down or t-shirt style, and are available in styles for adults and kids.

Pajama sets

include a top and matching bottoms sold together.

- Snug-fit pants and long-sleeve top

- Loose-fitting long pants and t-shirt style top

- Shorts and t-shirt style top

- Traditional button-down top and loose pants

Pajama separates

in solid shades or subtle prints are often suitable as sleepwear or loungewear. Mix and match long- or short-sleeve tops with shorts or loose-fitting pants to create a look you love.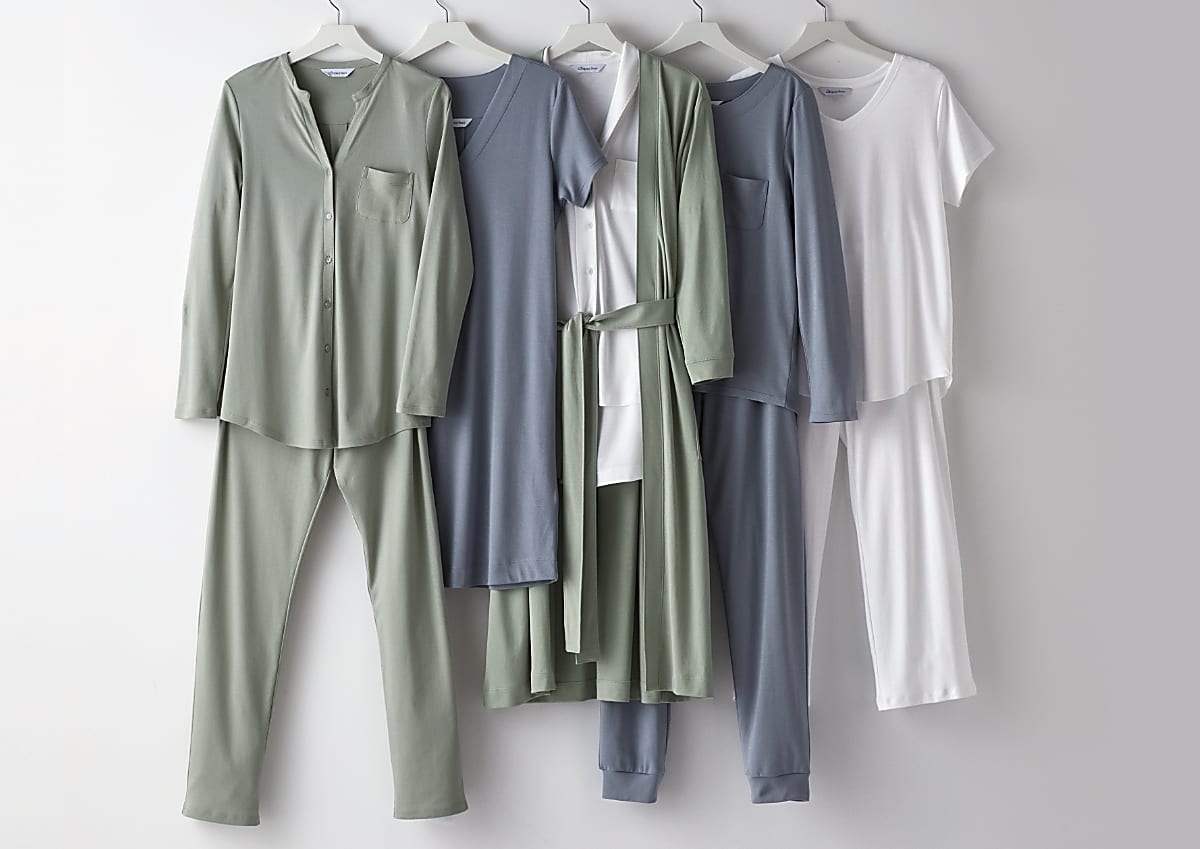 Find the Right Size and Fit
For the most comfortable pajamas, get the right size—and the right fit. Clothes that are too tight can be uncomfortable, but pajamas that are too large may tangle around your limbs, causing discomfort and disrupting sleep. Consult our Size Guide to determine the appropriate size. Then, look at the cut of the pajamas to find the right fit: do you prefer clothes that sit closely against your skin, or do you like the laid-back, casual comfort of looser garments?
Why Are Some Pajamas Snug Fit?
Snug-fit pajamas were originally designed for children—their close-to-the-skin construction makes them safer in case of fire—but snug-fit pajamas can also be a cozy option for adults. The stretchy rib-knit forms to your body for a comfy fit, and as long as they're made with cotton or another natural material, snug-fit pajamas are just as breathable as their looser counterparts.
Once you've found the most comfortable style or fit, explore the pattern or color options to find pajamas to suit your individual tastes. Try matching family PJs for a fun holiday photo op, or opt for simple solids that can double as loungewear. For more tips and advice, explore our Inspiration Guide.