A bathrobe may just be our favorite cozy option for kids, teens, or adults. We love the comfort of an absorbent bathrobe after a shower, or a lightweight robe over loungewear for a relaxing weekend. The ideal robe for you depends on season or climate, when you expect to wear it, and your style preferences. Explore these tips for choosing a robe, shower wrap, or cover-up.
1) Choose the Best Robe Material
When searching for a robe, first consider which material best delivers your preferred features. There are a variety of robe materials available, perfect for keeping you extra cozy on cold days, wicking away leftover moisture after a long bath, adding coverage without overheating, or giving you a warm yet breathable layer. Cotton or cotton blend robes are great options because they're breathable and moisture-wicking, comfortable against the skin, and easy to launder.
| Material | Benefits | Uses |
| --- | --- | --- |
| Terry Cotton | Warm and moisture-wicking | After a bath or shower, while getting ready in the morning, or for a little warmth before bed |
| Waffle Knit | Absorbent and fast-drying | A lightweight option for getting ready for the day, prepping for bedtime, or for covering up at the pool |
| Jersey Knit | Comfortably stretchy, lightweight | Great for use with loungewear or over pajamas, ideal weight for summer |
| Cotton (Interlock Knit) | Similar to jersey knit, but thicker and smoother | Ideal for daily wear and weekend lounging in any season |
| TENCEL™ Lyocell | Ultra-soft and breathable with a gorgeous drape | Lightweight for summer, but still warm enough when temperatures cool |
| Cotton Blend | Cotton blends featuring fabrics like TENCEL™ Modal are eco-friendly, breathable, and moisture-wicking | Great for going green, ideal for after bath or lounging |
| Down-Filled | Insulating and ultra-warm | The coziest option available, ideal for the coldest seasons |
| Fleece | Plush, ultra-soft, and incredibly warm | A cozy, snuggly option for kids and adults alike, perfect for layering over pajamas or loungewear |
| Flannel | Fuzzy, warm, and breathable | Ideal for warmth during cold winter weather |
| Linen | Breathable, lightweight, and casual | Offers a spa-like experience at home |
What Robe Fabric Is Most Absorbent?
When searching for an absorbent bathrobe or shower wrap, choose options crafted of natural materials such as 100% cotton or a cotton/rayon made from bamboo blend. Turkish cotton terry is one of the most absorbent robe materials, making it an ideal fabric for bathrobes and shower wraps.
Quick Tip: Terry bathrobes are often rated in GSM, or "Grams Per Square Meter." The higher the number, the heavier, warmer, and more absorbent the robe.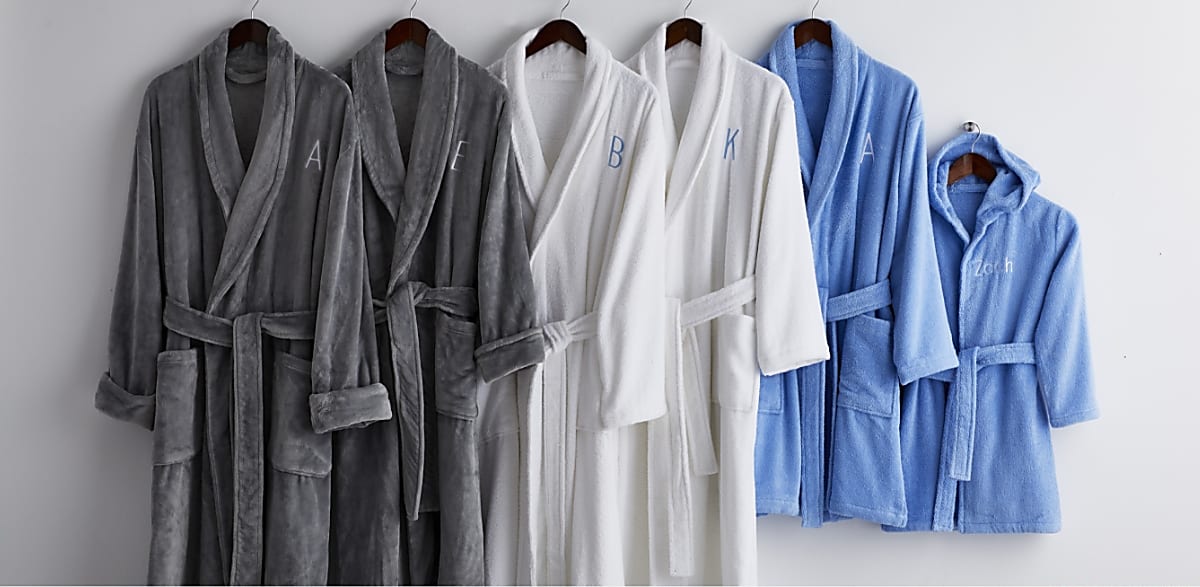 2) Decide on Robe Style and Length
Consider the types of bathrobes when searching for your best match. In general, a robe is a loose-fitting, wrap-front article of clothing that usually has sleeves and a belt to tie it closed. The most popular robe styles and options include:
Open-front
Kimono-style
Hooded
Shawl collar
Shower wrap (with or without straps)
Common Robe Lengths
Long or short, the choice is yours: bathrobes come in everything from ankle-length and mid-calf styles to shorter options that land a bit above the knee. The ideal length may depend on season or weather—longer robes for cool seasons, shorter robes for warm seasons. You may also find that wearing a shorter robe over loungewear is more comfortable and easier to move around in, while a longer robe is better for after a shower because it absorbs moisture and keeps your body and legs warm. If you're looking for the best beach cover-up, a shorter robe is less likely to gather sand and lets you wade or sit on the edge of the pool without dragging your hem.
What Is a Shower Wrap?
A shower wrap—sometimes called a body towel, bath wrap, spa wrap, or towel wrap—is an absorbent cover-up made of terry or other material. It wraps around the body and secures with a hook-and-loop fastener, button, or tie. Men's styles often secure at the waist, while women's shower wraps cover the bust and may include straps.
3) Find the Right Size
Our bathrobes come in men's and women's sizes Extra Small through 2XL and kids' sizes 2T through 16. To determine your robe size, measure around the fullest part of your chest, around your waist at your natural waistline, and around the fullest part of your hips. For robe length, measure down the center of your back, beginning where the collar rests to where the hem will land. Robes are flowy and forgiving, but our clothing size guide can help you find the right fit.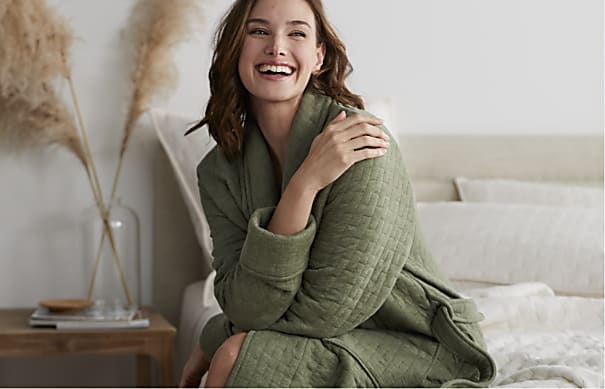 4) Find Your Favorite Color or Pattern
Our robes come in a range of solid hues from subtle pastels to deeper shades, as well as seasonal prints and classic patterns. Explore plaid robes for the entire family, perfect for movie nights or a big brunch—and find some dog PJs to match. Pair a fuzzy pink robe with your favorite floral PJs, choose a classic pattern to complement cozy loungewear, or opt for a seasonal print for festive fun.
5) Make It Your Own
Add a monogram to your robe—or include the full name on a child's robe for a special kid you know. A monogram is a fun way to personalize an everyday item for yourself or as a gift.
Try these bathrobe personalization ideas:
Robes in your wedding colors make great gifts for the couple, bridesmaids, and groomsmen. Add embroidered initials, the date, or the year to commemorate the occasion, then wear the robes while getting ready—and for group photos.
Create a college care package, complete with slippers and a monogrammed robe.
Make sleepovers special with personalized robes for the attendees. Bonus: an embroidered name ensures each robe goes home with the right kid.
Dress the family in matching PJs, customized robes, and slippers, then settle in with popcorn and snacks for an awesome movie night.
Plan an at-home spa party and give each guest a lightweight monogrammed robe to complement the relaxing atmosphere.
Bathrobes are excellent for post-bath, movie night, morning lounging, and wrapping up when you're chilly. Choose a robe—or two, or three—using these tips, then check out our Inspiration Guide for more ideas.