When it comes to buying bedding on a budget, affordability and quality are not mutually exclusive. The best sheets and bed linens are made with premium materials and production methods, often resulting in higher price tags—but that doesn't mean you can't buy top-quality bedding on a budget. Explore our tips for finding the right pieces at lower prices that work for you.
1) Know What To Look For in High-Quality Bedding
With so many bedding buzzwords, it can be hard to decipher what actually matters from what is merely marketing. Hone in on these details when considering high-quality bedding.
Although more expensive than synthetic options, natural materials—think cotton, linen, or TENCEL™ Lyocell—are more comfortable, durable, and breathable, so they're a better investment.
A high thread count isn't always a sign of quality, but it can tell you about bedding's texture and warmth. Look for sheets and bedding made with high-quality natural materials with thread counts between 200 and 600, depending on the weave and material.
Identify bedding made from premium raw materials and held to the highest environmental and ethical standards by checking for certifications, including STANDARD 100 by OEKO-TEX®, Global Organic Textile Standard (GOTS), and Responsible Down Standard (RDS). These indicate extra care taken in ethically sourcing materials and manufacturing the final product.
2) Prioritize the Right Bedding Pieces
To get the most bedding bang for your buck, consider quality over quantity. Instead of setting a budget for individual items, consider your overall budget and prioritize which high-quality pieces you can afford—and which items you can sacrifice quality for price.
Start with foundation bedding pieces, then stagger your shopping to stretch your budget:
Sheets are the only bedding item to directly touch your skin and perhaps the biggest contributor to bedtime comfort. If you're debating which high-quality bedding items to invest in, start with sheets made from natural materials featuring high-quality weaves like percale or sateen. Not a fan of flat sheets? No problem—they're optional, so choose a fitted sheet, skip the top sheet, and put your remaining bedding budget toward other top-quality options.
Pillows provide the necessary support for your head and neck during sleep, minimizing potential pain and making them one of the most important items for which to prioritize quality. Choose the right pillow fill and density to maximize your comfort.
Your top bedding layer will be the most visible, so avoid low-quality materials that might rip or pill. Pick your preferred top bedding layer—duvet cover and insert, comforter, bedspread, coverlet, or quilt—and choose a top option that will showcase your style and taste.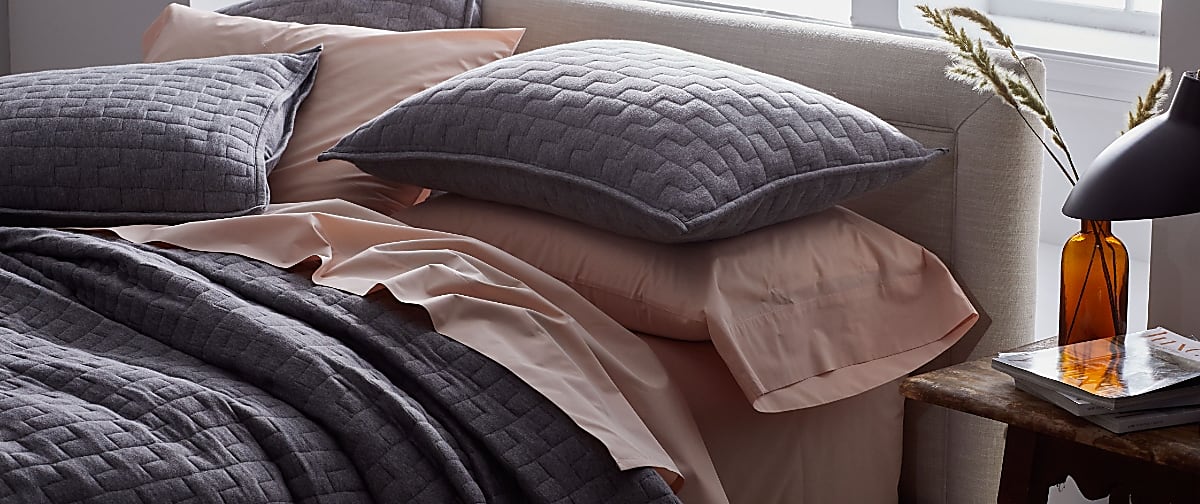 3) Choose a Budget-Friendly Bedding Buying Approach
Layering a bed requires more than just sheets and pillows. But with so many options—and so many price points—it can be hard to know what to pair with these bedding basics. Consider some strategic approaches to find the right budget-friendly bedding for your space.
Strategy 1: Look for Long-Lasting, Multipurpose Bedding
Well-made bedding may be more expensive, but it also lasts longer. Because you're unlikely to replace it as often, better quality bedding is actually more cost-effective in the long run—especially when it can be used in multiple ways. Consider these durable, multipurpose pieces when choosing budget-friendly bedding:
Down duvet inserts can last for as many as twenty years, and are available in a range of densities and fill powers to suit your sleeping preferences. Opt for a midweight down comforter for year-round comfort. You can use an insert alone, but pairing it with a duvet cover will protect it to increase longevity.
Heirloom-quality handcrafted quilts are the longest-lasting bedding layer, with a lifespan that spans generations. Consider a quilt as a lightweight top bedding layer, a warm blanket in winter, or a decorative accent folded at the foot of your bed. For the greatest longevity, choose a solid quilt that will never go out of style.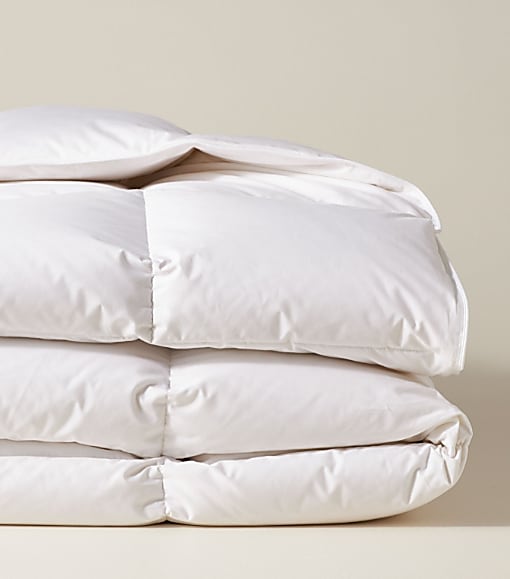 Strategy 2: Opt for Budget-Friendly Material Swaps
Some materials come at a higher price point, but less expensive options—with comparable quality—are also available. Consider alternate bedding materials to suit your budget and comfort preferences.
| Instead of | Consider | Shared Qualities |
| --- | --- | --- |
| Linen | Cotton Percale | Lightweight, cool to the touch, gets softer with each wash |
| Silk | Cotton Sateen | Buttery soft, smooth, warm but breathable |
| Duvet Cover & Insert | All Season Comforter | Adds pattern to the bed, versatile, warm |
| TENCEL™ Lyocell | Organic Cotton | Sustainable, durable, breathable |
| Down Fill | Down Alternative Fill | Lofty, warm, year-round comfort |
Strategy 3: Know How To Find High-Quality Bedding at Low Prices
If budget-friendly bedding is your priority, start your search in the sale and clearance section. While our exclusive prints and designs are limited runs that may not make it to our end-of-season clearance selection, if you're not picky on pattern or style, it's a great place to find low prices on high-quality sheets, comforters, duvet covers, and other bedding items.
Your bed linens don't need to match. Keep an eye out for seasonal sales and special promotions and stock up on coordinating pieces at discounted prices. Working within a set color scheme, choose coordinating patterns and prints from the sale section to create a unified bedding look on a budget.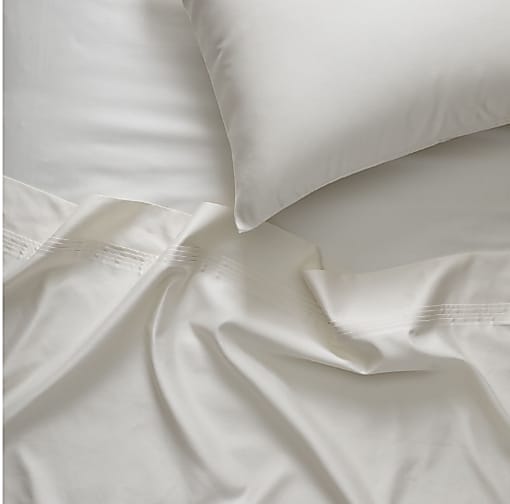 4) Take Care of Your Bedding and Sheets
One of the easiest ways to extend the life of your bedding—thus maximizing your investment—is to take care of it properly. Always follow the manufacturer's instructions, but if you've misplaced them, follow some general guidelines for how to wash sheets and other bedding.
Wash sheets and bedding in cold water with no more than the recommended amount of detergent.
Do not use fabric softener, which can damage the fabric's fibers.
Tumble dry low and do not overdry; overdrying can cause pilling and weaken the material.
Instead of dryer sheets, use wool dryer balls to soften and fluff bedding.
Budget shopping doesn't mean you can't make the bed with high-quality sheets, pillows, comforters, or duvet inserts. Use these tips and strategies for buying high-quality bedding at a price that works for you—and find other bedding ideas in our Inspiration Guide.