The right rug will complement—not overwhelm—your decor, ground your furniture, define an entertaining space, or bring balance to a room. Area and accent rugs are available in a range of sizes to suit nearly any space, and come in durable materials including cotton, natural jute fibers, wool, and synthetic options. Explore our guide to find the best rug for your indoor or outdoor gathering spaces.
1) Choose the Right Rug Size and Shape for Your Space
Choosing the right size is one of the most important decisions you can make when buying a rug. A cohesive, beautiful space begins with good proportions: A rug that is too small may make your space look smaller, while one that is too large can make a room feel imbalanced.
Most manufacturers use standard rug dimensions, although exact measurements may vary by a few inches. Always double check the product's specifications against your room size to be sure the rug will work in your space.
What Size Rug Do I Need for the Living Room?
The best size area rug for your living room, den, or bonus room will be large enough that just the front legs of your primary furniture, such as a couch or accent chair, will fit over the edge. You can also choose to center a smaller rug in your seating area beneath an ottoman or coffee table. A room-size rug—often 9 ft. x 12 ft. or 11 ft. x 14 ft.—requires a floating furniture arrangement.

Living Room Rug Layout Tip: Allow for at least 12 inches between the edges of an area rug and the walls.
What Size Rug Do I Need for the bedRoom?
A rug positioned beneath a bed should extend at least 24 inches on either side of the frame. The most common size rug for a bedroom is 8 ft. x 10 ft., but a smaller rug—6 ft. x 9 ft. or even 5 ft. x 8 ft.—may be better for a Full or Twin mattress. If you have a small room or your bed is against the wall, a smaller rug next to the bed is a great option.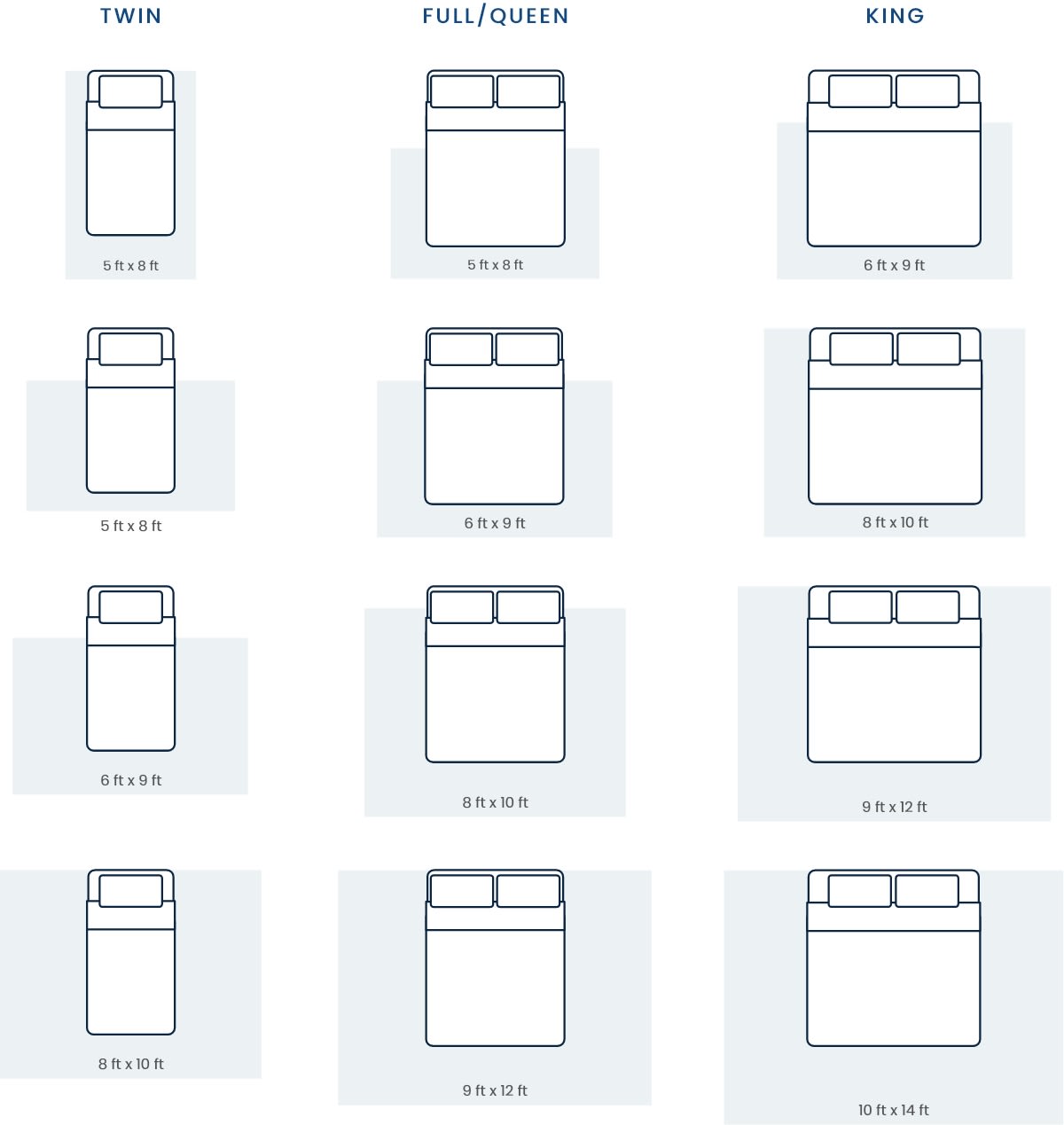 Bedroom Rug Layout Tip: Area rugs in the bedroom should be at least 4 inches away from the walls and any floor vents.
How Big Should a Dining Room Rug Be?
To determine what size rug you need for a dining room, kitchen, or breakfast nook, measure the table under which it will sit, then add 24 to 30 inches on either side to allow ample space for chairs to slide in or out. A round rug will work best beneath a round dining table; while a rectangular rug is appropriate for a rectangular or oblong table.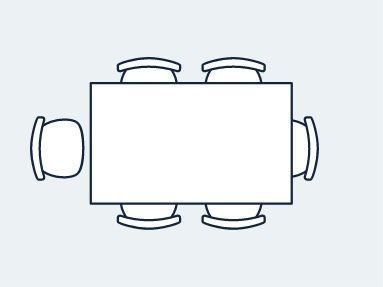 How to Determine Hallway Rug Sizes
Measure the length and width of your hallway and subtract 12 inches from each to find the ideal size runner for your hallway. This will allow for a 6 inch border of flooring to show all around. Most hallway rugs measure less than three feet wide and are available in standard 8- or 12-foot lengths; for longer hallways, you may need to use more than one runner to cover the distance.
2) Choose the Right Rug Material
High-quality rugs may be made from synthetic or natural materials—or a blend of both—and each type offers specific benefits. Consider these common rug materials and their respective qualities when choosing the right carpet for your space.
---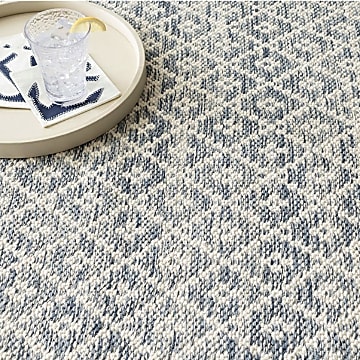 Durable and colorfast cotton rugs are ideal for the bedroom, living room, bathroom, kitchen, and more. Our cotton rugs are hand-woven on traditional looms to provide texture, and—because of the fiber's natural ability to absorb dyes—are available in a variety of solids and patterns.
Use: Use cotton rugs indoors only to increase longevity.

Care: Vacuum dirt and debris regularly, professionally clean when required.
---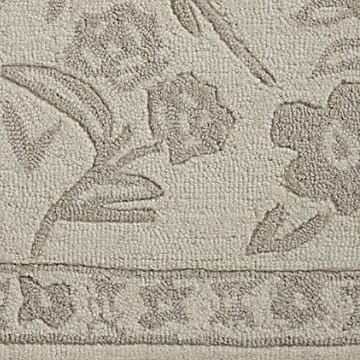 Soft and naturally stain-resistant wool rugs can be handtufted or handloomed to create various high-quality styles.
Use: Wool rugs should only be used indoors.

Care: Shedding is natural with wool rugs, but regular vacuuming on a high pile setting can minimize the amount of loose fibers. Wool rugs should be professionally cleaned.
---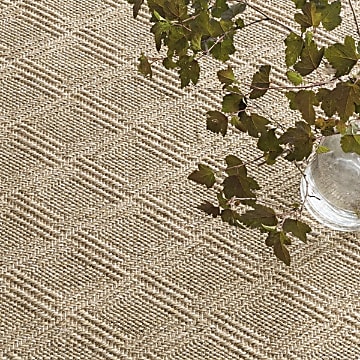 Rugs made with natural jute fibers are durable and resilient, but soft to the touch. Jute rugs are available in solid or patterned designs to suit your style.
Use: Jute and jute-combination rugs are intended for indoor use only, and are not recommended for use in damp or humid areas like a bathroom or sunroom. The ultra-absorbent natural fibers take longer to dry, which can lead to mold or mildew.

Care: Immediately remove spills using a clean, absorbent white cloth or paper towel. Avoid cleaning methods that involve water saturation, such as steam cleaning or wet shampoo.
Rug Buying Tip: For mudrooms or front doors, opt for a durable, weather-resistant coir door mat instead of a jute rug.
---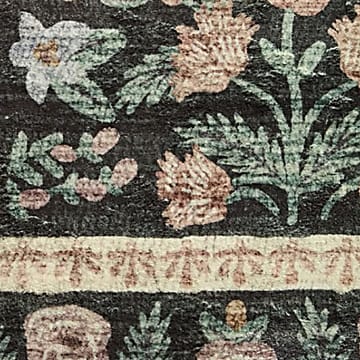 Synthetic materials make for low-maintenance rugs because they are engineered to be both durable and easy to clean. Popular synthetic rug materials include water-and fade-resistant polypropylene and soft yet stain-resistant polyester.
Use: Most polypropylene rugs are appropriate for indoor/outdoor use, while polyester options are best reserved for inside.

Care: Wash with mild soap and water or rinse with hose, then lay flat to dry.
---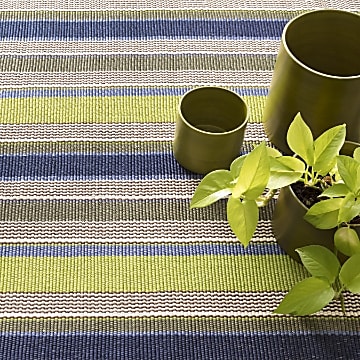 Indoor/outdoor rugs are made from synthetic or natural materials intended to withstand extended exposure to the elements.
Use: Indoor/outdoor rugs are excellent options for decks, foyers, dining rooms, hallways, playrooms, and other high-traffic, spill-prone spaces, indoors or out.

Care: Simply rinse with a hose to clean and lay flat to dry.
---
3) Consider Rug Construction Types
In addition to material, rug construction technique contributes to a rug's look and feel.
Hand-tufted rugs feature loops of wool or polyester yarn that are pushed through the rug's backing material before being cut to create a smooth surface—referred to as the pile, which can be low (short loops) or high (longer loops, like a shag rug). Hand-tufted rugs are often the softest and most comfortable option beneath your feet.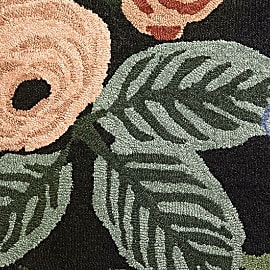 Hand-hooked rugs are similar to hand-tufted rugs in that yarn is pushed through the rug's backing material, but instead of being shorn, the yarn is left looped to create a knobby, embroidered appearance.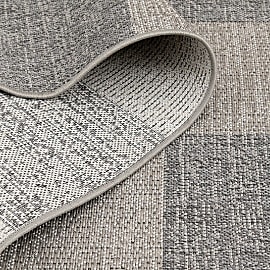 Flat-woven rugs feature lengthwise (warp) and widthwise (weft) yarns that are woven together to create the design. Flat-woven rugs do not have a pile, and because they are made without a backing material, are typically reversible. Most indoor/outdoor, natural fiber, and cotton rugs are flat-woven for versatility and durability.
DO I NEED A RUG PAD?
Yes, we recommend a rug pad for all of your rugs. A rug grip or pad offers many benefits:
Prevents your rug from slipping on slick floors
Reduces bunching under heavy furniture for a smooth appearance
Adds extra cushioning and comfort beneath your feet
Protects beautiful hardwoods from unsightly scratches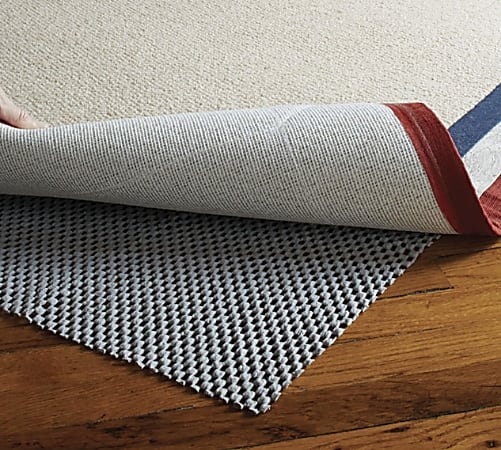 Once you've narrowed your search by size, material, and construction, you can find a rug style to complement your decor. Opt for a solid area rug to pair with boldly printed bedding or use an accent rug to bring pattern, color, and texture into an otherwise neutral room. For more advice and ideas, explore our Inspiration Guide.