No matter your age, Halloween parties are exciting. Kids and adults alike love to dress up and get together for spooky celebrations. Plan your perfect Halloween party—dark and creepy or eerie and elegant—with party decor tips and costume ideas that make your event even sweeter!
No-Fuss Halloween Costumes for the Whole Family
Halloween's top perks are candy...and costumes. But that doesn't mean your costume has to be elaborate. Sometimes, simplicity rules. Explore these easy, fun Halloween costume ideas for everyone.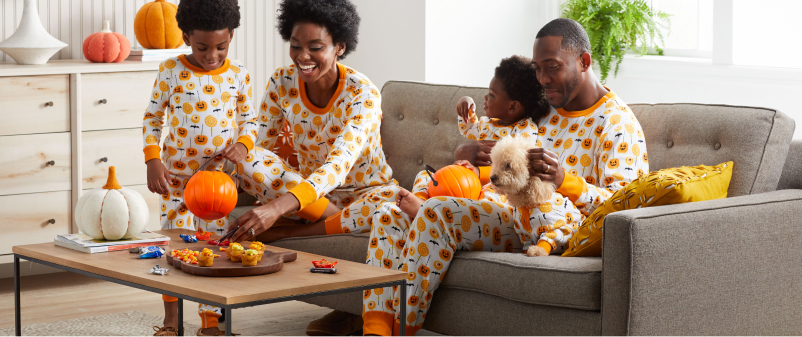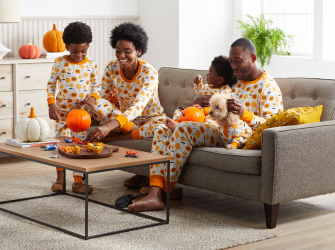 Create an ultra-comfy coordinated family costume:

Wear matching family pajamas, ruffle your hair so you look like you just rolled out of bed, and bring along a blankie or favorite stuffed toy.

Kiddo not the costume type?

For a sensory-friendly costume, top your kid's everyday clothes with a hooded bath towel or robe. Ours include hoods with stitched ears and faces and 3D details like tails and scales. Kids can snuggle up in something comfortable—no itchy tags, tight pieces, or crinkly parts, and it comes off in a snap.

Let the dog join the fun.

Get Fido some dog-sized pajamas or a wearable dog towel for a quick and easy pet costume.

Matching couples costumes

only need a few simple pieces: don aprons and oven mitts for a culinary vibe, dress to impress in your favorite fancy apparel, or wear suits and sunglasses while you track extraterrestrial activity.

Use items around the house.

For a last-minute costume. Socks and gloves pinned to a shirt? You're the inside of a dryer! Wrap up in an all-white comforter, and voila!—you've transformed into a puffy cloud. A bandana, a little retro make-up, and a denim shirt are all you need for a Rosie the Riveter costume.

One robe, many costumes.

Wear your bathrobe and carry a newspaper and coffee cup to dress up as an early-riser. Swap the mug and paper for a bath towel, and you become everyone's favorite intergalactic hitchhiker, Arthur Dent. Or, pick a plush robe, wrap your hair in a towel, add a silk eye mask, and paint on a faux clay mask for a relaxing Spa Day costume.
Halloween Party Tips for Decor and More
The sky's the limit when it comes to Halloween theme options. There's more to the holiday than ghosts, witches, fake cobwebs, and bats. We love them, too, but if you're looking for something a little different, try these Halloween party ideas.
Pick a Halloween Color Scheme
Think beyond orange and black for Halloween decor: rich goldenrod yellow and rusty orange hues mirror autumn leaves; elegant burgundy and red pop against white pumpkins; rich purples pair perfectly with deep, dark black; and even sage green or steel blue can have a place in your Halloween decor. Play with these color scheme ideas to create your own Halloween vibe: