When choosing the best colors for bed sheets, consider your bedding needs and personal tastes. Are you looking for fun sheets with whimsical patterns that make you smile, soothing shades to help you relax, beautiful florals for a garden aesthetic, or do you want to add a hint of sophistication with elegant whites and welcoming neutrals? Discover the best bed sheet colors to add a personal touch to your room and get you ready to snuggle up.
How to Choose the Best Color for Sheets
Consider your lifestyle when deciding on colors for bed sheets. Do you need help relaxing after a long day? Or is the fun (and sometimes hectic) life of a family leaving you stressed about messes and stains? Whatever your needs, these quick tips will help you decide.
Best Color Sheets for Sleep
Jump into a bed with soft, tranquil-toned sheets to wind down and relax after a long day. Reach for soothing colors that help you and your loved ones settle in for a good night's sleep.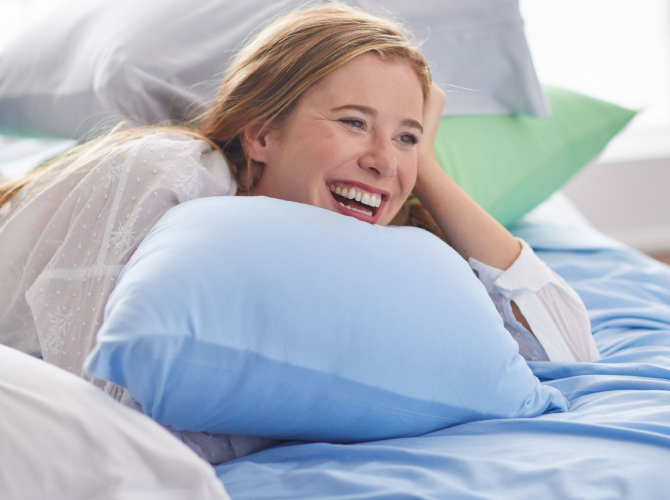 Soothing blue sheets can have a calming effect, helping you sleep like a log.
Mellow green or gray sheets can ease your mind as you go to off to dreamland.
Majestic purples create images of serene fields of lavender for a peaceful feeling.
Warm yellow tones invoke homey feelings, so you feel secure as you drift off to sleep.
Calming whites and ivories give a clean, uncluttered feel, creating a stress-free space for sleep.
Best Color Sheets to Hide Stains
If you're a parent or pet owner, you know the importance of finding the color bed sheets that best hide the stains and accidents that come with a fast-paced life. Sometimes your regular sheet-washing schedule doesn't cut it: hide the lasting evidence of each day's adventure with these options.
Green sheets

are perfect for hiding dirt, grass stains, and a variety of messes—handy if the kids forget to leave their shoes at the door.

Brown sheets

can help disguise stains left behind by accidents—whether from pets, children, or spilled coffee.

Gray sheets

can conceal a wide range of stains, including marks left by dirt and sweat.

Dark tones

and printed sheets offer do-it-all camouflage to hide a cornucopia of stains.
Sheet Separates or Sets, Which Is Better?
Sheet sets offer all-in-one convenience but separates let you mix and match to your heart's content. A sheet set often includes all of the necessary pieces: a bottom fitted sheet, which features elastic to hold the sheet in place; a flat sheet that adds a lightweight protective layer between you and your duvet cover; and one or two pillowcases.
Many families enjoy sheet separates for the ability to mix and match colors and patterns to customize their bedding look. Others appreciate the benefit of being able to replace sheet separates as needed, rather than purchasing a whole new set if one piece wears out. Perhaps you like to tailor individual fabric options for better temperature control, or maybe you don't use a flat sheet at all—then sheet separates are a cost-saving option.
Whether you opt for the ease of a sheet set or the customization options awarded in sheet separates, we've got the colors and patterns for you.
Know How to Mix and Match Sheet Separates
Ground your bedding with a fitted sheet in a base color, then mix and match colors and patterns or tailor your bedding to the season or your personal preference. Use these design tips to get started: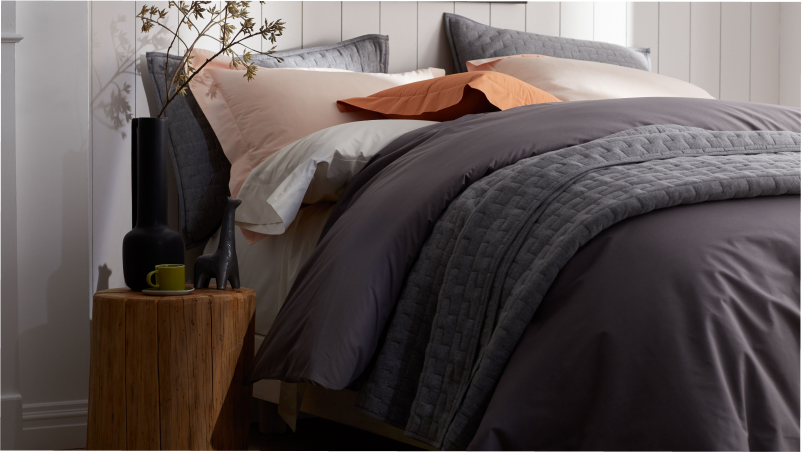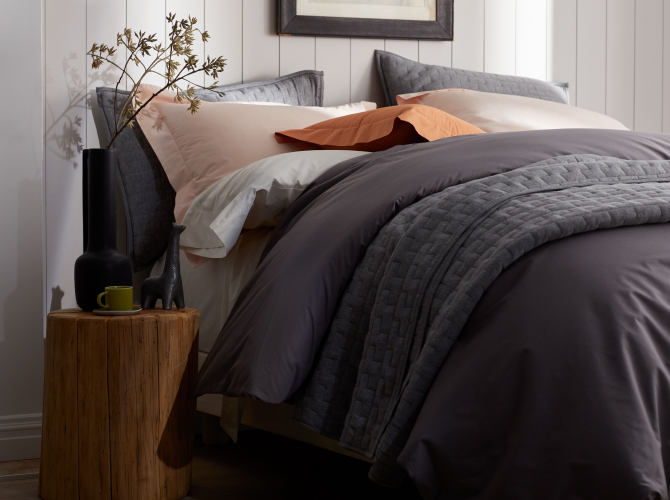 Coordinating Colors:

Find a hue you love and work in the tints, tones, and shades to create a monochrome palette that fits your aesthetic, or play around with complementary colors for a high-contrast look that makes a bold statement.

Coordinating Patterns:

Pairing sheet patterns can be fun, but it can also be a little overwhelming. To coordinate printed and patterned sheets like a pro: vary pattern sizes to add dimension, repeat a unifying color to tie it all together, and remember color theory—complementary colors play well together.

Mixing Colors and Patterns:

Keep it simple, but fun, when you choose one solid color bedding piece, and pair it with another in a vibrant pattern. Try a solid fitted sheet and patterned flat sheet or printed fitted sheet and solid comforter.

Use Shams to Your Advantage:

You can match your sheets and shams for a unified look, or make your bedding really stand out by choosing complementing shams that really pop.

Personalize Bed Sheets with a Monogram:

Another way to add a touch of color to your bed is with personalized monogrammed flat sheets—you can customize the embroidery style, font, design, and color. Monograms are prominently centered on the flat sheet just below the wide hem at the head of your bed.
When it comes to coordinating your bed sheets, keep it simple to create the perfect environment to catch some Zs—or get creative for a space filled with personality. The choice is yours. Find more bedding tips and tricks in our Inspiration Guide.