One of the best features of a duvet cover is that it allows you to update the look and feel of your space whenever you please. There's no need to store multiple bulky comforters; simply swap the duvet cover for a fresh print or color as seasons change. We've rounded up some of our favorite seasonal duvet cover ideas for inspiration.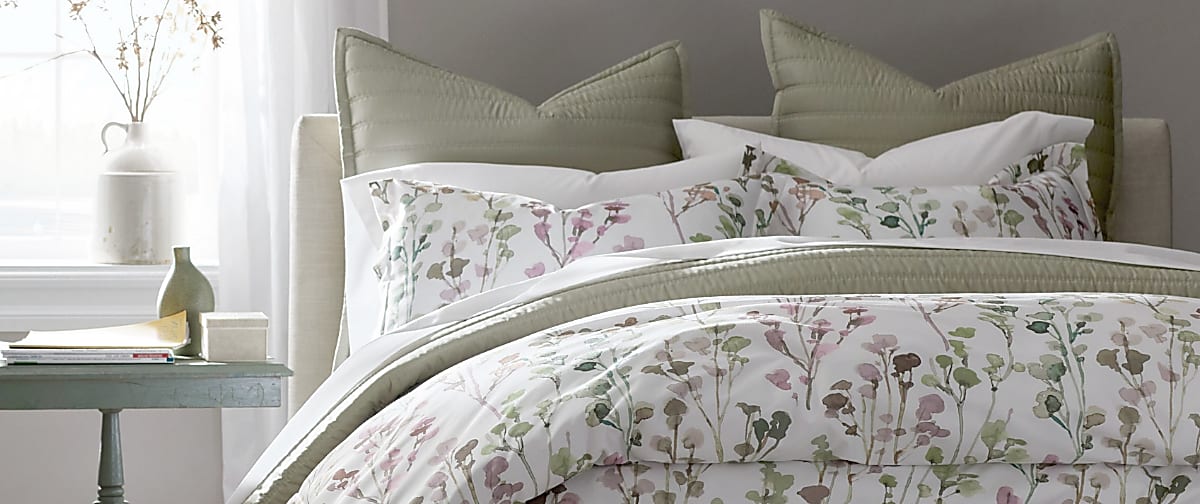 Duvet Covers Featuring Spring Florals and Pastels
Bring springtime cheer to the bed with a duvet cover sprigged with greenery, boasting beautiful blooms, or showcasing barely there pastel shades. Renew and refresh your space with a duvet cover in one of our spring-inspired prints or patterns, and accent the bed with coordinating shams and decorative pillows. Try these seasonal spring combinations: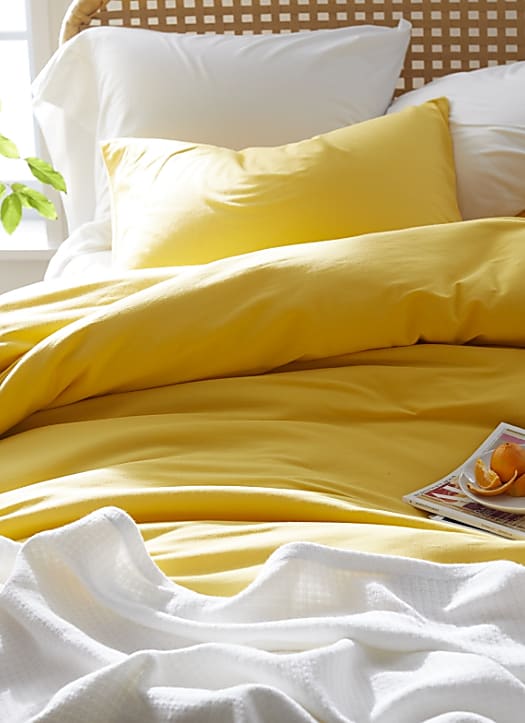 Pair buttery yellow and white for a bedroom look that offers warm, sunshiny vibes. Choose crisp, white sheets and a colorful duvet cover, or swap it so the yellow peeks out at the top of the bed—the choice is yours.
Coordinate a pretty floral duvet cover with spring green sheets and subtly striped pillowcases for a bright mix-and-match style.
Lift spirits with a duvet cover showing off lavender accents or a solid lilac hue. These shades of purple work beautifully with beige, gold, mint, or teal.
Gingham-checked bedding in robin's egg blue is a springtime delight, especially when paired with floral, striped, or solid bedding separates in a soothing color palette.
Breezy, Lightweight Summer Duvet Covers
When it comes to summer bedding, duvet covers are in. Choose a breathable duvet cover material—we love linen or crisp cotton percale—add a lightweight duvet insert, and layer bedding in bold summer hues. Get creative with prints, patterns, and vibrant solid colors. Consider these ideas for coordinating a summer duvet cover and bedding:
Create a nautical getaway by incorporating navy blue, red, and white. Use vivid solid colors, maritime-inspired stripes, and oceanic motifs like anchors, starfish, and whales.
A duvet cover in golden sunflower yellow looks wonderful with orange and white bedding pieces and is a lively companion for daisy or dandelion print sheets.
For striking color, especially in a kid's room, choose a brilliant rainbow print duvet cover, or build your own prismatic bedding set by layering fitted and flat sheets, pillowcases, a duvet cover, and a throw blanket in a rainbow sequence.
Look for a duvet cover featuring coral or tangerine—either in solid colors or with petite or large summertime prints—to pair with sheets and accents in teal or turquoise.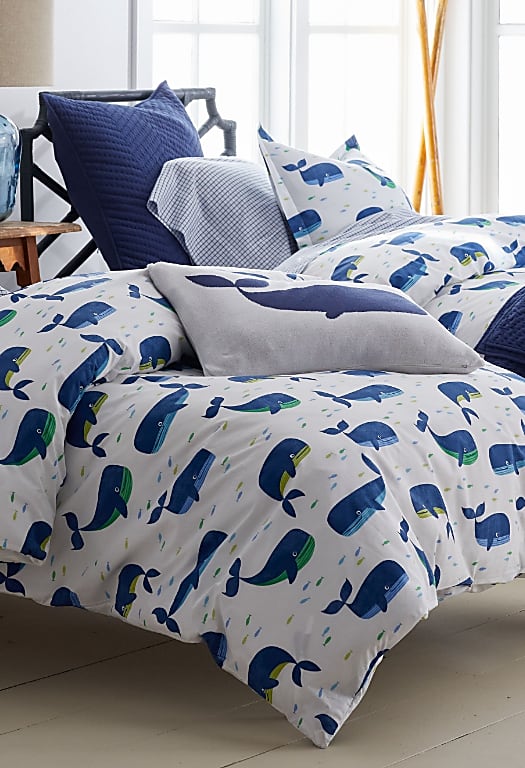 Duvet Covers in Rich Hues and Prints for Fall
When considering duvet covers for fall, search for textured bedding in autumn hues to create a cozy retreat you'll love. Colors move from breezy and bright to rich and earthy as the seasons change, turning your summer bedroom into a snug getaway. Let these ideas for autumn duvet covers and bedding inspire you: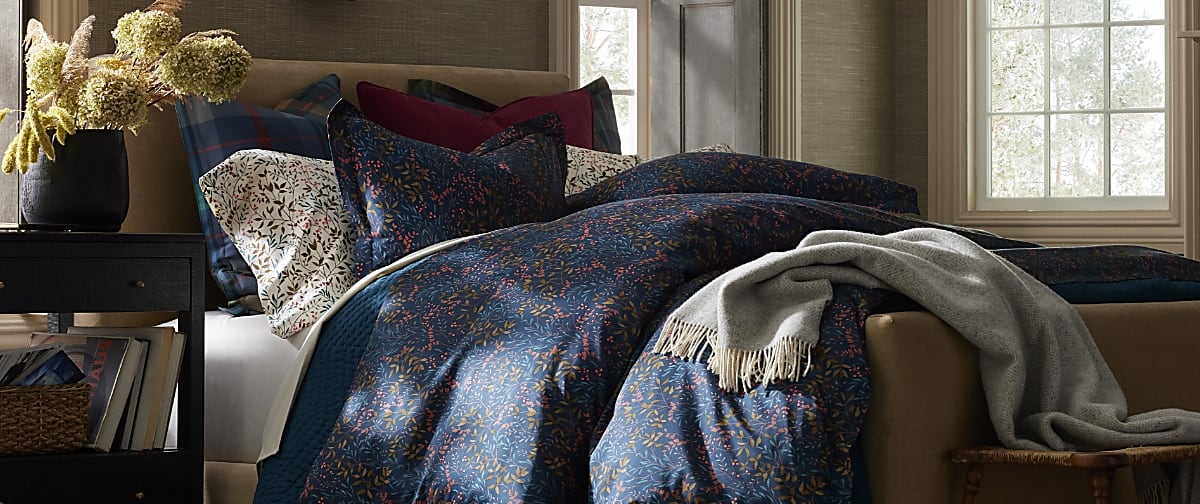 Jewel tones—deep sapphire, ruby red, vivid emerald, or elegant amethyst—are gorgeous options for fall. Couple warm and cool jewel tones, or look for complementing colors: Pair navy sheets with an amethyst duvet cover, layer emerald and goldenrod yellow bedding pieces, or match a deep green or blue duvet cover with light gray accents.
Autumn is prime time for mossy green, natural linen, rich honey, and striking pumpkin. Unite earth tones with neutral colors or cool hues: Off-white sheets look wonderful topped with a forest green duvet cover, plaid sheets suit an earthy floral print duvet cover set, and coordinating autumn leaf print bedding lets you lean into the season.
Choose a patterned duvet cover featuring favorite autumn hues—think burgundy, mustard, or rust—and layer with sheets in colors pulled straight from the print. Focus on accent colors rather than the most prominent hues, like the deep green from the stems, the splash of gold from flower petals, or the thinnest option in a multi-stripe pattern.
Snuggle Up Under a Warm Winter Duvet Cover
Winter duvet covers come in ultra-warm materials, like fuzzy flannel or silky sateen—breathable fabrics that insulate to keep you warmer. Fill your cozy cover with a winter-weight duvet insert and you'll be comfortable even on the chilliest nights. Try these winter duvet cover style ideas: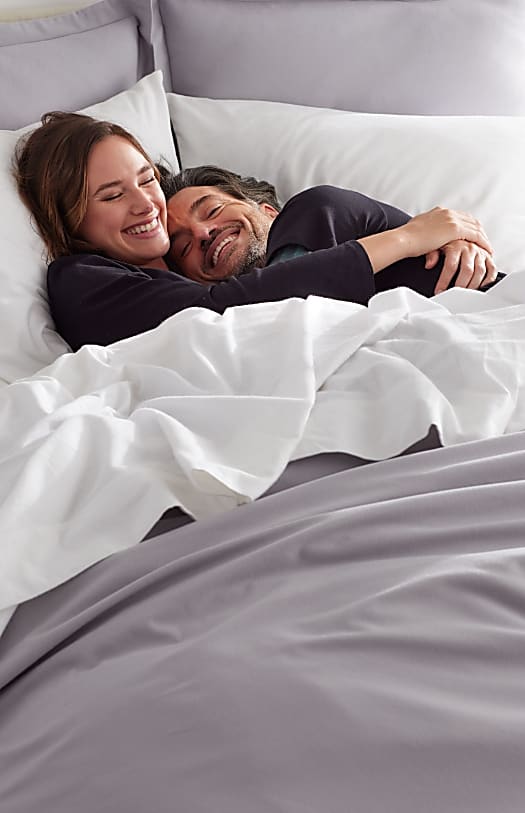 A wintery snowflake print duvet cover works well with crisp white or gray-blue sheets. Or, reverse it: Pair printed sheets with a solid duvet cover.
Create a forest vibe with a deep evergreen duvet cover layered with sheets displaying trees, a seasonal mini-print, or classic plaid.
Choose a printed duvet cover that features cranberry red, then layer over slate gray sheets and add a pop of color at the foot of the bed with a mustard yellow or snowflake white throw blanket.
If you prefer to keep holiday-themed color palettes out of the bedroom, bring subdued hues to your space with a duvet cover and sheets in polar-inspired shades. Ice blue, dusty mauve, frosty pink, and antique beige are elegant winter options that coordinate beautifully for an Arctic sunset scheme.
Brighten the bedroom with duvet covers and bedding pieces that show off the prints, patterns, and colors of each season. Easily swap your duvet cover for a fresh look no matter the time of year. For more bedding tips and tricks, explore our Inspiration Guide.