When it comes to a college planning checklist, finding the right bedding to fit tricky dorm room mattresses can pose a challenge all its own. But don't worry: if you don't know what size bedding to buy for college dorms, we've got you covered. Our College Bedding Guide offers answers to the most frequently asked questions about dorm room bedding, so you can send your kids off to school in comfort and style.
What Size is a Twin XL Dorm Room Mattress?
Standard in most college dorm rooms and residence halls, Twin XL mattresses measure 39 inches by 80 inches—the same width, but five inches longer, than a regular Twin mattress. This extra length accommodates individuals taller than six feet and allows ample space for shorter students to stretch out.
What Size Sheets and Bedding Do I Need for a Dorm Bed?
Twin XL sheets and bedding are sized specifically to accommodate the extra length of dorm room beds, but in some instances, standard Twin bedding is sufficient. Explore our handy college bedding size chart to guide you, then read more about the right size bedding for college dorms.
| Item | Twin | Twin XL |
| --- | --- | --- |
| Bed Skirt | | X |
| Mattress Topper | | X |
| Fitted Sheet | | X |
| Flat Sheet | X | X |
| Sheet Set | | X |
| Comforter | X | X |
| Duvet Insert + Cover | X | X |
| Blanket | X | X |
| Quilt | X | X |
---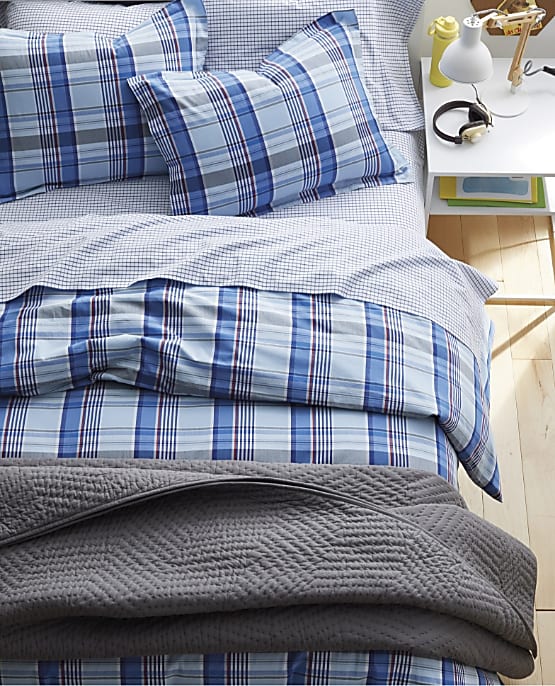 Because standard Twin fitted sheets are not sized to accommodate the dorm bed's extra length, you'll have a hard time keeping them on the bed. In contrast, Twin XL fitted sheets are sized specifically to fit those extra five inches. We do offer Twin XL sheet sets, but if you prefer sheet separates, a Twin XL flat sheet is not necessary. Our regular Twin flat sheets are generously sized to fit both types of Twin mattresses.
NOTE: Double check measurements for mattress toppers, bed skirts, and other bedding basics fitted to the mattress; like fitted sheets, they'll need to be sized specifically to fit Twin XL beds.
---
Yes, a Twin comforter will fit a Twin XL bed, but you can also choose a Twin XL comforter for extra length. Our Twin/Twin XL comforters measure 70 inches wide by 90 inches long, and are sized for both standard and extra-long Twin-size mattresses.
---
At 84 inches wide by 90 inches long, a Full-size comforter can fit a Twin XL mattress; the extra length on either side just means it may touch the floor, depending on the height of their bed.
---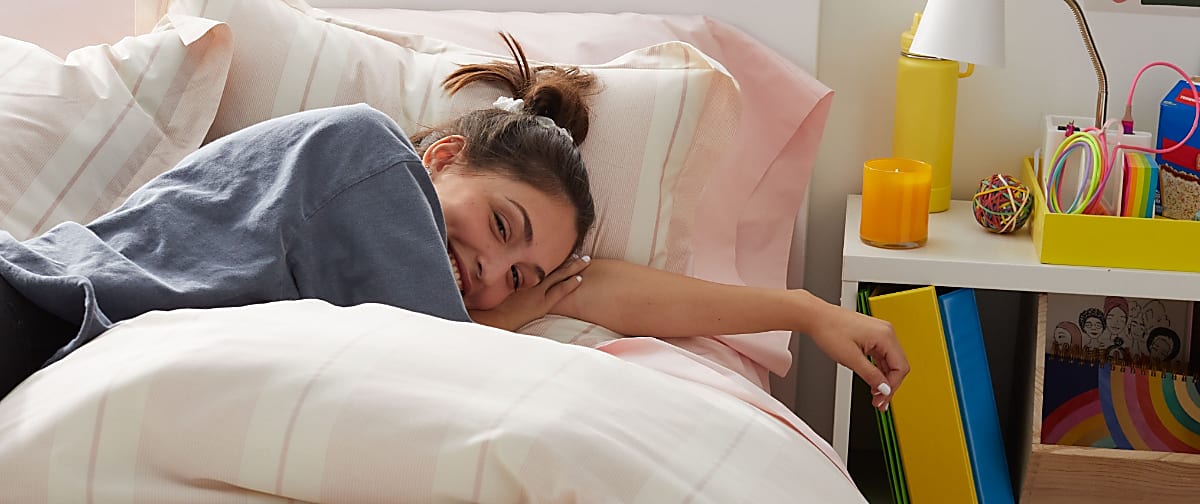 How to Layer a Dorm Bed
Now that you know what size bedding is right for dorm mattresses, it's time to tackle which bedding basics your student actually needs. Our checklist will help you make sure you don't miss a layer.
Start with a Twin XL mattress topper to make the dorm bed more comfortable. Memory foam, wool, down, or down alternative—choose a topper that suits their sleeping preferences to make their dorm bed feel like home.
Whether they need a bed skirt for the dorm depends on personal preferences. A Twin XL bed skirt can hide unsightly under-bed storage, but if their bed is lofted or they've chosen fashion-forward storage options, this bedding basic may be unnecessary.
Add easy-care sheets. Jersey knit is a favorite material for dorm room bedding because of its casual look and soft, lived in feel, but any durable, breathable cotton sheets will do. Opt for two sets of sheets so they can keep one set in the laundry and one on the bed; three sets may be best for messy or spill-prone students.
Choose a top bedding layer. A matching comforter and sham set makes it easy to create a coordinated look for the college dorm, but a duvet cover and insert reduces laundry—only the cover needs to be washed regularly.
Don't forget the pillows. Choose a single bed pillow to suit their sleeping preferences. An optional second pillow paired with a sham adds a polished finishing touch to the dorm bed.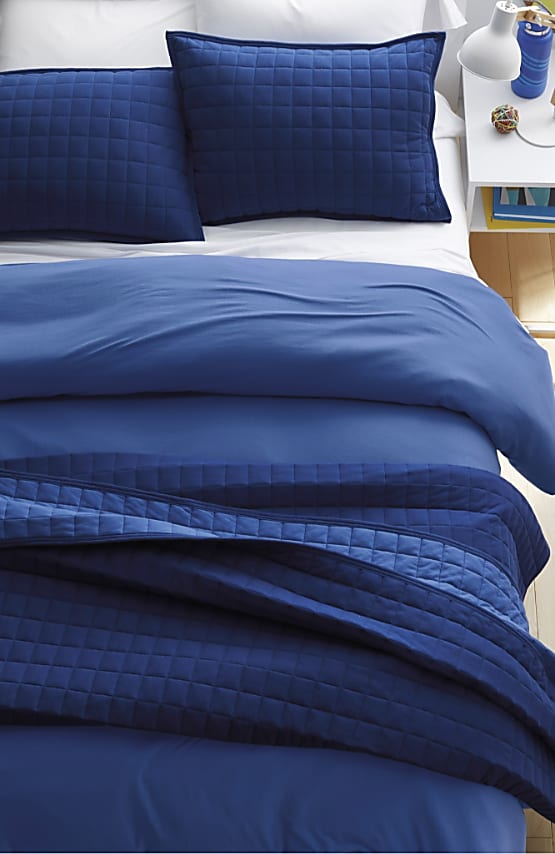 Round it out with a blanket they love—a true college bedding essential. Students can use a blanket as an extra layer on cool nights, wrap themself up when studying or hanging out with friends, and fold it at the foot of the bed when not in use.
After you have reviewed these most-asked questions about Twin XL sheets, comforters, and college bedding, let your college-bound kid mix and match colors, patterns, and materials to design a dorm room look they love. Find more bedding advice and ideas for kids, teens, and adults in our Inspiration Guide.