Cuddling up beneath your favorite blanket is the perfect way to end the day, but finding the option that's "just right" takes a little searching. When it comes to how to choose a blanket, consider intended use, preferred warmth level, and what material is best for the season. Explore our blanket buying guide to find the right option for you, whether you prefer a lightweight throw for lazy days or a winter-weight blanket for the bed.
Blanket Versus Throw: What's the Difference?
A throw blanket is smaller than a regular blanket meant for a bed, making it the perfect size to drape over the arm of a chair or the foot of the bed. Regular blankets are most often available in the same sizes as mattresses: Twin, Twin XL, Full, Queen, and King. Blankets and throws come in various designs, such as knit, matelassé, jacquard-woven, velvet, or fleece—and we even offer quilted styles.
There are a few main blanket types. The most popular options include:
Down or down alternative blankets used as the topmost bedding layer
Decorative—and warm—quilts, coverlets, and bedspreads
Smaller throw blankets available in varying weights
Kids' hooded blankets to bring fun to play time and bedtime
How Do You Choose a Blanket
Choosing between a blanket and throw comes down to intended use. Will you use it most for a little extra warmth on the coldest nights, while curled up in your favorite reading chair, or as a useful decorative accent? A decorative throw can bring bold color into the living or bedroom, and the variety of available materials means you've got options for any season. If you'd like a blanket to keep you cozy through the night, bed-sized cotton blankets and bedspreads are fantastic year-round options. Or, choose a down or down alternative throw blanket for the best of both worlds: a warm layer with a smaller footprint that can be used on the bed—or anywhere.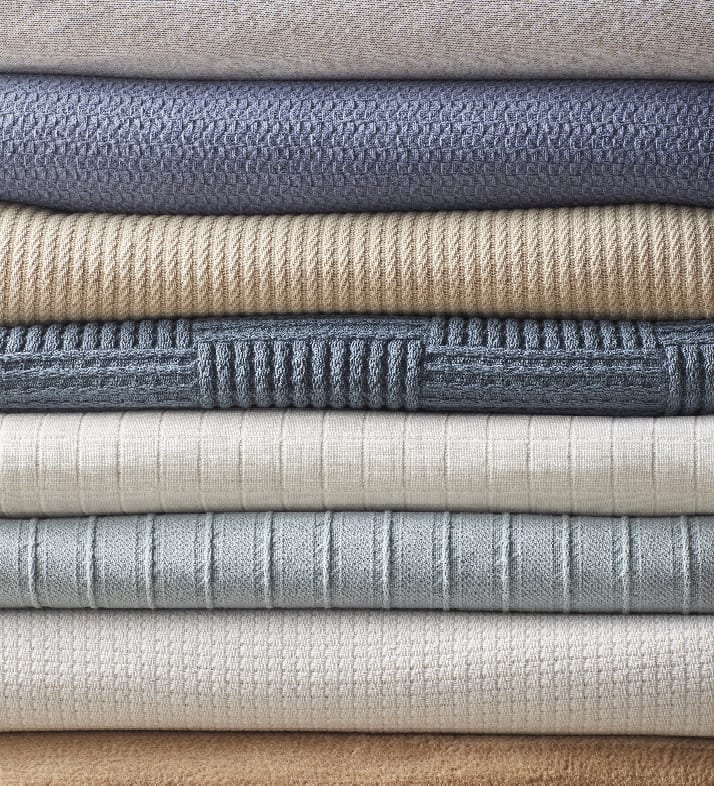 WHEN CHOOSING A BLANKET, ALSO CONSIDER THESE FACTORS:
Do you want something that keeps you cozy—but not too cozy—all night? If a comforter or down or down alternative blanket is too warm, consider a coverlet or bedspread for a lightweight solution that can be used as a top bedding layer.
Do you need a spare blanket as a backup extra layer when temperatures drop? Consider a quilted or knit blanket or wool throw folded in thirds at the foot of the bed.
What's your climate? In extra-chilly locations, a down or down alternative blanket provides extra insulation without added weight. In warmer areas, you may find that a cotton, bamboo blend, or summer weight merino wool blanket is just right.
Where will you use the blanket most? The right blanket size depends on your answer: choose a blanket that corresponds with your mattress size for bed use, opt for a throw blanket for movie nights on the couch, or let your kids choose fuzzy hooded fleece blankets to get into character for bedtime stories.
Are you looking for something to soothe you to sleep? Specialty weighted blankets are designed with a glass-bead-filled insert that provides hug-like weight for restful sleep.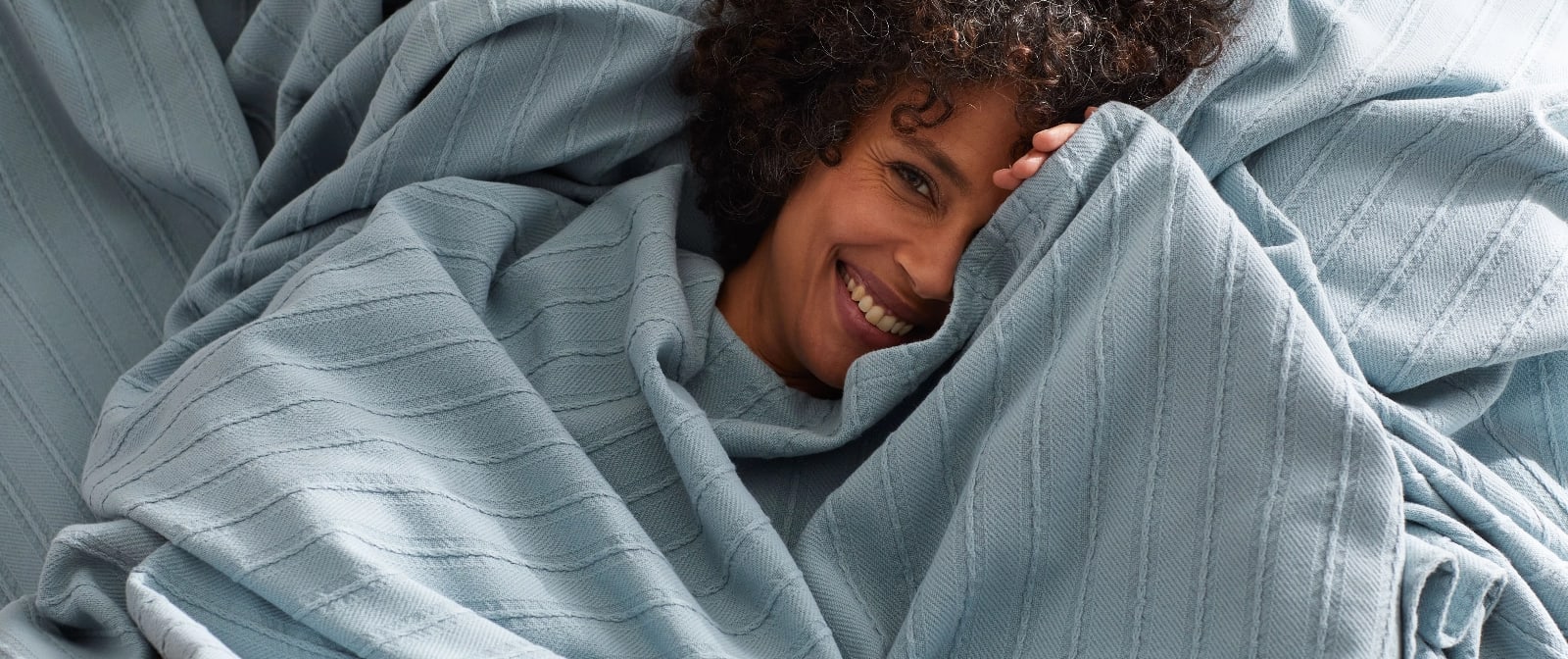 What Is the Best Blanket Material?
Natural materials—think cotton, linen, and wool—are perfect for blankets because they're lightweight, breathable, and warm. The best blanket material depends on how much warmth you want. You'll need a lighter option on a breezy summer night than you will during a frigid winter stretch. When buying a new blanket, consider both material and weight to find the right solution. For example, a linen or gossamer cotton blanket is an ultra-lightweight option that's perfectly suited to summertime sleep, while a heavier knit cotton blanket is more insulating for cooler weather. No matter what you choose, layer your blanket with other bedding to create customized-for-you comfort.
What Kind of Blanket Is Warmest?
Down and down alternative blankets are ultra-cozy options that offer more warmth than coverlets and throw blankets made from cotton. Both down and down alternative fills are lofty, breathable, and insulating, making them ideal winter blanket options for your bed.
WHAT DOES GSM MEAN FOR BLANKETS?
Some blankets are measured in GSM, or "grams per square meter," which indicates blanket thickness and warmth level. The higher the GSM, the warmer the blanket. Not all blankets are measured in GSM: the warmth of a down or down alternative blanket is indicated by its "fill power," or how much loft the blanket provides—the higher the number, the greater the loft, and the warmer the blanket.
BLANKET MATERIALS AND WARMTH LEVEL
| Material | Warmth Level | Why We Love It |
| --- | --- | --- |
| Gossamer Cotton | Extra-Light | An airy option |
| Linen | Light | Perfect for summer |
| Rayon made from Bamboo | Light | Silky, eco-friendly material |
| TENCEL™ Lyocell | Light to Medium | Derived from sustainable sources |
| Cotton | Light to Medium | Breathable and lightweight |
| Fleece | Medium | Great for kids |
| Sherpa | Medium to Warm | Ultra-plush for added warmth |
| Wool | Medium to Warm | Spans seasons |
| Down or Down Alternative | Medium to Warm | An extra-warm option |
Choosing the best blanket comes down to personal preference. Natural materials offer breathable insulation, and down or down alternative blankets provide extra warmth for the coolest nights. Explore our Inspiration Guide for more bedding tips and tricks.