We can think of few things more inviting than curling up beneath a warm, snuggly duvet cover when winter's chill sets in. The best duvet covers for cold weather are made from cozy but breathable materials that keep you comfortable without overheating. Explore our guide to choosing the warmest duvet cover for chilly nights to find an ideal option to suit your sleeping preferences and preferred temperature.
What Is the Warmest Duvet Cover Material?
When it comes to choosing a warm winter duvet cover, we recommend looking for breathable cotton or natural fiber fabrics. Breathable materials minimize the likelihood that you wake up sweaty or overheated. Consider our warmest duvet cover materials—from slightly heavy sateen to cuddly, cozy flannel—to find the right option for you.
Cotton Sateen Duvet Covers
The lightest of our cozy duvet cover fabrics, cotton sateen offers year-round comfort for those prone to overnight chills and adds a little extra warmth for hot sleepers in the middle of winter. Buttery soft sateen features a subtle sheen thanks to its distinct weave structure, which is tighter and warmer than that of its cousin, cotton percale. Opt for a cotton sateen duvet cover in a sophisticated solid hue for all-year style, or choose a seasonal print to bring a bit of festive flair to the guest bed. Consider these factors when choosing a cotton sateen duvet cover: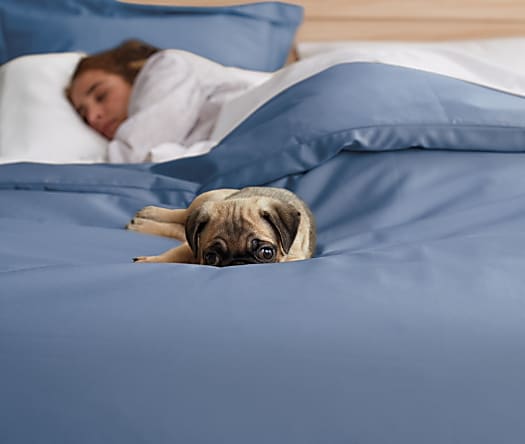 Thread count: The highest quality cotton sateen will feature a thread count between 300 and 600; choose a higher thread count for warmer bedding.
Fiber: In addition to pure cotton sateen duvet covers, we offer options sewn from cotton blended with TENCEL™ Lyocell or Rayon made from bamboo—moisture-wicking, temperature-regulating materials that enhance cotton's natural comfort.
Cotton Jersey Knit Duvet Covers
Unlike cotton sateen, jersey is knitted, not woven. The relaxed fabric offers a subtle stretch and the comfortable, easy feel of your favorite T-shirt. Jersey knit keeps you warm on winter nights, but is also breathable and absorbent, so it's suitable when temperatures rise. It is easy to wash, resists wrinkles, and is highly durable, making it a favorite fabric for children's rooms and college dorms. Opt for a white or gray cotton jersey duvet cover to bring a snowy look to the bedroom, or choose from a range of vibrant solid hues to brighten long winter nights.
Cotton Flannel Duvet Covers
The many benefits of cotton flannel make it perhaps the most beloved fabric for winter bedding: The material is incredibly soft, highly durable, and excellent at trapping heat for comfort on even the coldest nights, thanks to the nap (or raised yarns) created by brushing its surface. Both weight and finish affect flannel's feel, with extra-brushed and garment-washed velvet flannel offering an exceptionally opulent hand. Look for five or six ounce flannel duvet covers for the warmest bedding for winter. Unlike cotton sateen and jersey knit, which can be used year-round, cotton flannel is best reserved for fall and winter nights.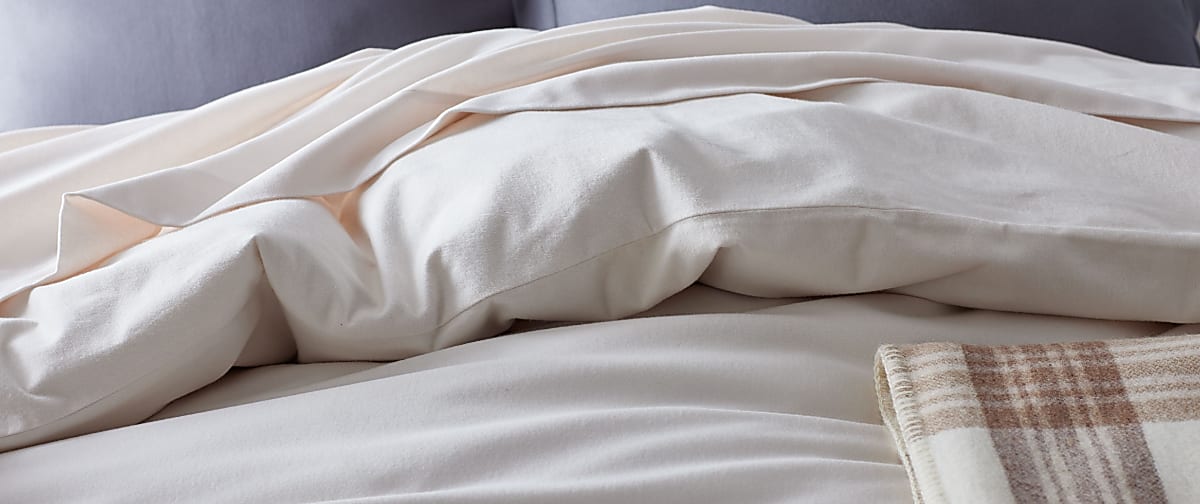 While duvet cover fabric impacts your overall comfort level, you'll want to choose a duvet insert weight to fit your sleeping preferences to ensure you really stay warm. Pair your warm sateen, jersey, or flannel cover with a lofty, insulating down or down alternative duvet insert and sleep cozily all season long. For more winter bedding tips and ideas, explore our Inspiration Guide.