Flat weave towels, also called Turkish or hammam towels, differ in design from regular bath towels—rather than the fuzzy loops that make terry towels soft and absorbent, flat weave towels are woven to produce a smoother, softer texture. Explore the distinct features of flat weave towels and the most popular uses for this style.
What Are Flat Weave Towels?
Hammam-style beach towels feature yarn-dyed patterns—usually stripes, inspired by traditional Turkish designs—that are woven into the towel. They are often finished with fringed edges. Jacquard woven and printed options are also available, often in kitchen towel designs.
They're crafted of one hundred percent cotton, and the weave type makes hammam towels remarkably absorbent. Ultra-lightweight flat weave towels are thinner than terry bath towels, so they pack easily. They also dry faster than thicker terry towel varieties.
Some of our favorite uses for versatile flat weave towels include:
Kitchen Towels
Lightweight outdoor throw blanket
Beach wrap cover-up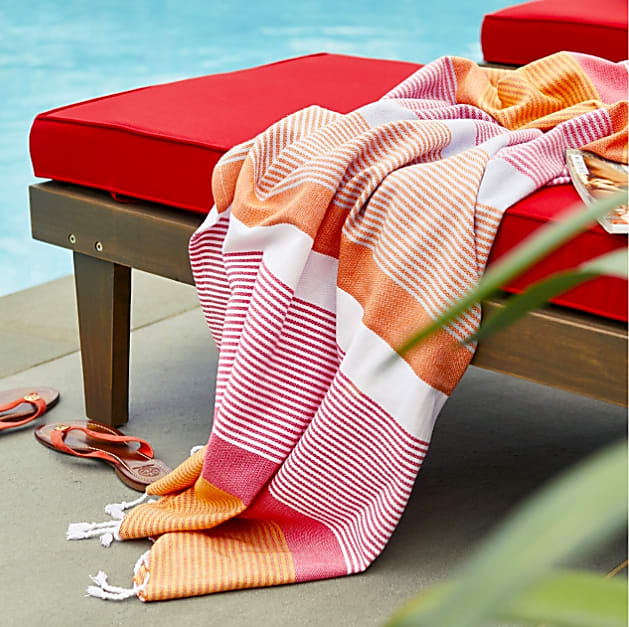 Top Benefits of Flat Weave Towels
Because flat weave towels are thinner, they are easy to fold, store, and pack—and they're a perfect option to tuck into your beach bag for a day by the water. A compact flat weave towel won't weigh you down when you're on the go. It will dry quickly, too, so when you pack it up after a swim, the inside of your bag is less likely to get soggy.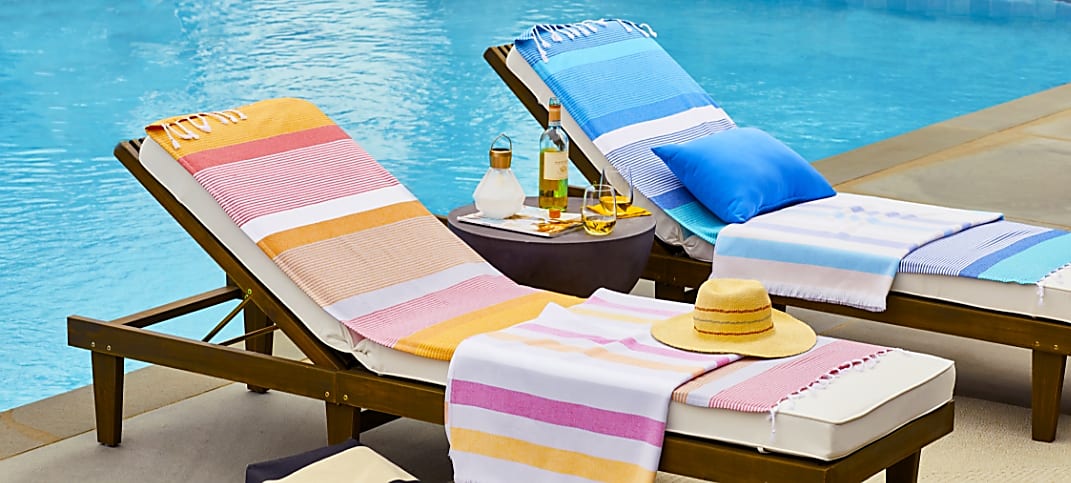 At home, it's easy to fold and stack flat weave towels. Or, roll them and tuck them inside a basket for a display that's both pretty and practical: grab a towel on your way out the door. Our flat weave beach towels measure thirty-nine inches by sixty-eight inches, perfect for lounging in your favorite outdoor chair, stretching out by the shore, or drying off after a swim.
When choosing towels, consider your preferences. Do you prefer big, fluffy, terry looped towels, or quick-drying, compact flat weave towels? You may decide to keep hammam towels for use at the beach or pool, and terry bath towels for use at home.
How To Wear A Hammam-Style Towel
For a little added coverage, you can tie your flat weave towel around your waist as a skirt, or experiment to wear your towel as a halter-style dress. Follow these three easy steps to wear your hammam-style flat weave towel as a beachy cover-up: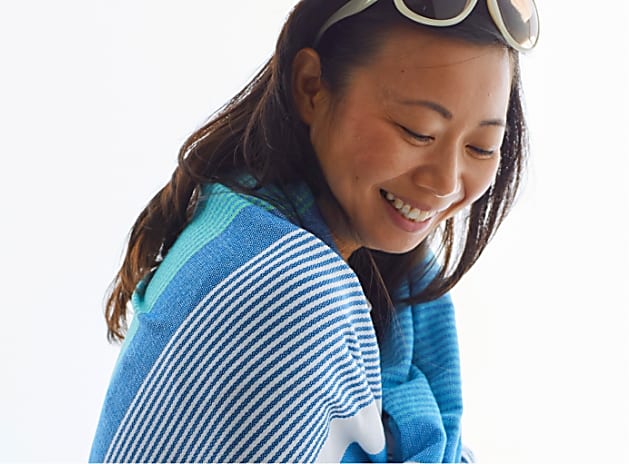 Hold the towel behind you, lengthwise, gripping the top corners one in each hand.
Criss-cross the top corners across your chest and pull them up and around behind your neck.
Tie the corners together behind your neck, then adjust so the towel edges fall neatly to create a breezy dress perfect for wearing over your swimsuit.
How to Clean Flat Weave Towels
It's easy to wash flat weave towels. Always follow the manufacturer's care instructions when washing any towels, but generally you can machine wash your hammam-style towels on cold, then tumble dry them on low. Remove them from the dryer promptly after the cycle completes. Avoid fabric softeners or dryer sheets when laundering your flat weave towels, as they contribute to build-up that limits absorbency.
A flat weave towel is an absorbent, quick-drying option perfect for packing or using at home. For more bath linen tips and home decor ideas, explore our Inspiration Guide.